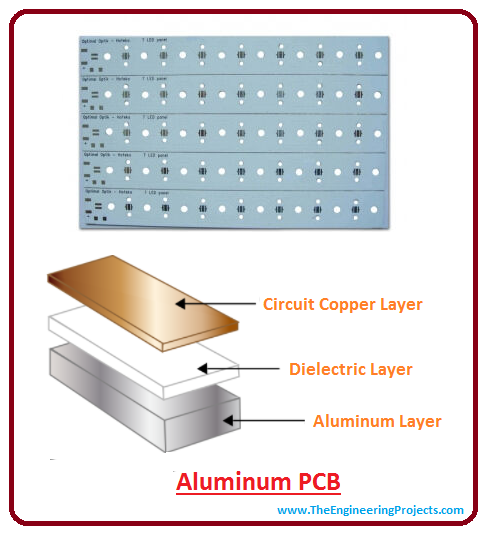 Hey Guys! We welcome you on board. Technology evolves every day with the addition of advanced components and devices that make our lives easy. A few years back we were dependent on end-to-end wiring and connectors to electrically connect different electronic components. The inception of PCB substantially removed the need of an end to end wiring and gave an entirely new look to the electronic industry.
In this article, I'll give you a detailed Introduction to Aluminum PCB. It is a type of PCB that uses dielectric thermally conductive and electrically insulated material between the copper layer and aluminum metal. This PCB is a highly effective choice for applications that involve heat dissipation or high temperature. You must have a quick look at Multilayer PCB and Different Types of PCB that I have updated previously.
Let's dive in and explore what is Aluminum PCB? what are its advantages over regular PCB and its main applications.
What is Aluminum PCB?
Before we look into aluminum PCB, we must have a clear concept of what is PCB? PCB is an acronym of Printed Circuit Board, which uses conductive paths and traces incorporated on a single board that electrically connects different electronic components on the board. Copper is used to provide a conductive path that is laminated on the substrate material.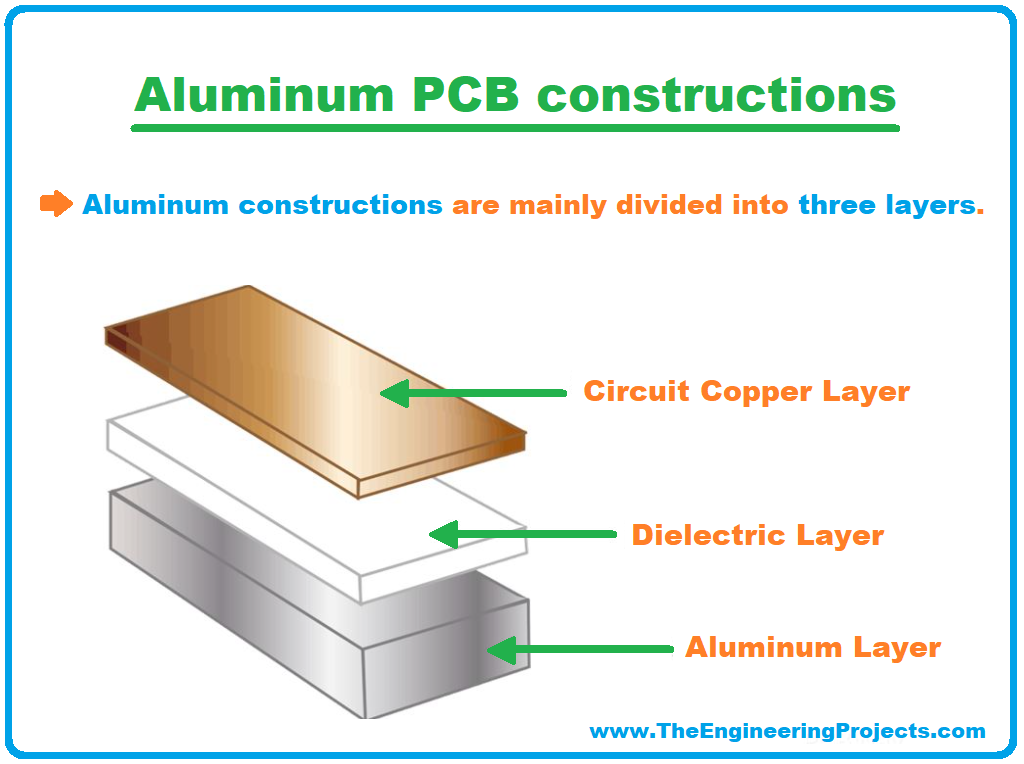 Aluminum PCB, also referred as metal base PCB, is a type of PCB that consists of copper-clad laminate and a thin dielectric thermally conductive and electrically insulating layer of Aluminium.
The copper foil adopts the desired circuit pattern while the aluminum base allows the heat-dissipating with the help of a dielectric placed between the layers.
Aluminum constructions are mainly divided into three layers
Circuit Layer: It is a copper layer that comes with a thickness of around 1 to 10 oz.
Insulating Layer: A dielectric layer of thermally conductive and electrically insulating material
Base Aluminum Layer: This is mainly composed of copper or aluminum metal substrate. There are multiple thicknesses available, however the most common thickness is 1mm.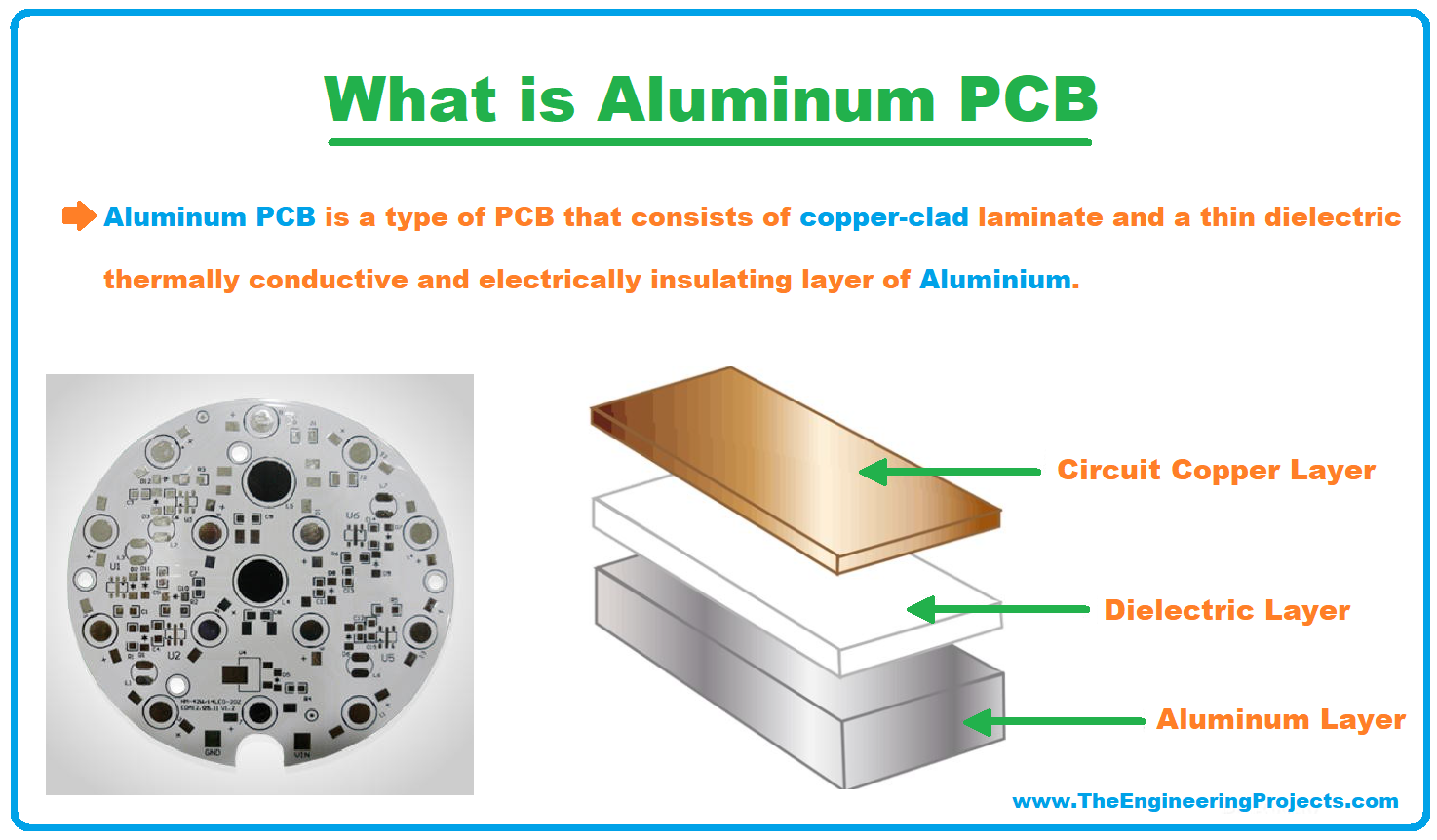 Types of Aluminum PCB
There are a number of types of aluminum PCBs which are used in many applications based on their construction and design. However, the main purpose of all the aluminum PCBs is almost the same; providing heat dissipation solutions for applications involving high temperature. Following are the main types of aluminum PCBs.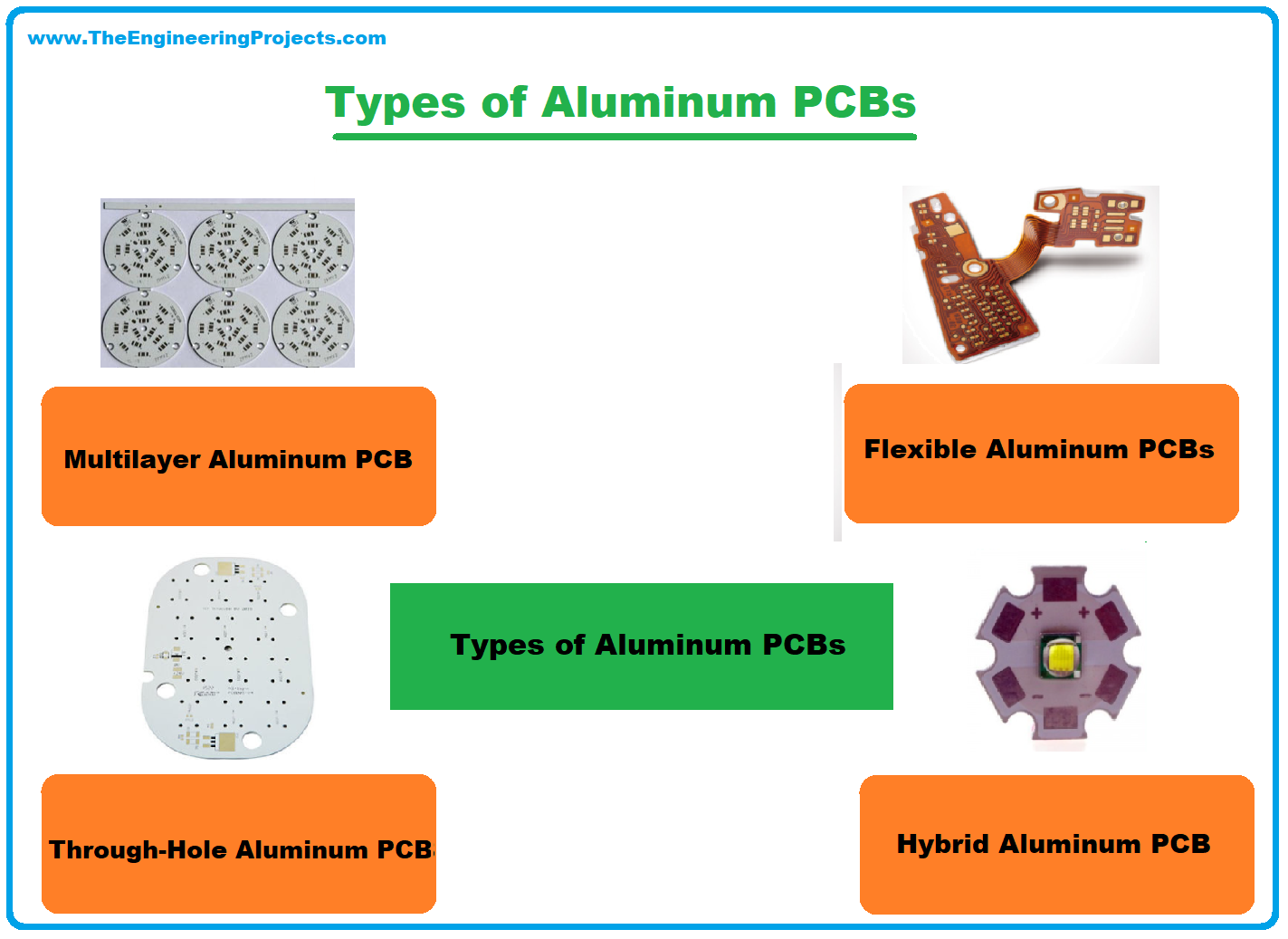 Flexible Aluminum PCB
Flexible dielectric is a new addition in the development of aluminum products.
These materials come with polyimide resin integrated with ceramic filters which exhibit high flexibility, thermal efficiency and excellent electrical insulation.
When these materials are applied to an aluminum material, they result in a final product that eliminates the need for costly cables and connectors.
The amount of flexibility allows these products to fold, twist or shape into any form before they remain in place.
Once they adopt a specific shape, they can not be altered or modified like regular flexible PCBs.
Hybrid Aluminum PCB
In hybrid aluminum construction, non-thermal material is processed and refined separately before it is applied to the thermal materials with an aluminum base.
The most common practice is developing 2 layers or 4 layers structure that comprises of FR4 material normally.
A non-thermal material that is bonded with thermal material and the aluminum base provides rigidity and helps in the dissipation of heat.
This non-thermal bonding is preferred over using all thermal materials because it features less cost and encompasses efficient thermal conductance over regular FR4 products.
No heat sinks or assembly steps are required for the development of this product.
Through-hole components can be easily adjusted using component windows on the aluminum base.
This helps in passing the cables and connectors through the substrate. Also, the seal created by the solder fillet eliminates the need for costly adapters.
Multilayer Aluminum PCB
Multilayer Aluminum PCBs are very common in power supply products and come with multiple layers of thermally conductive dielectrics.
These materials are very useful when they are combined with one or more layers of circuitry in which thermally conductive dielectric is buried between the layers with the help of blind vias which also act as a signal or thermal vias.
Single-layer construction of these designs is not very effective, however, when they come with more complex designs they provide an ideal solution for many applications involving heat dissipation.
Through-Hole Aluminum PCB
When it comes to most complex constructions, a single layer of aluminum is back-filled and pre-drilled with before applying lamination, forming a Core of multilayer constructions.
Thermal bonding materials are then used to laminate the thermal materials on both sides of the aluminum.
Once lamination is done, drilling is applied to the assembly.
In order to maintain proper electrical insulation, the plated through holes created as the result of drilling must pass through aluminum clearances.
Advantages of Aluminum PCB
The high level of heat dissipation provided by aluminum PCB makes them an ideal choice for applications involving high temperature and running hours.
Low cost is another benefit that makes aluminum effective and economical. Aluminum is a common metal, easily available that can be mined and refined at a very low cost.
The non-toxic nature of aluminum makes it environmentally friendly and an ideal choice for applications that involve the recycling of products.
The strength and durability provided by aluminum-based products are much higher than fiberglass and ceramic materials.
Aluminum material is very strong and sturdy in nature that makes it capable of enduring more pressure and stress when it comes to manufacturing and material handling as compared to other metals.
Aluminum is very lightweight. It adds strength and durability to the product without adding additional weight.
The thermal conductance of dielectric used is 5 to 10 times higher than old epoxy glass.
Thermal transfer is more efficient and reliable than regular PCB.
Applications of Aluminum PCB
These products were mainly developed for high-power switching applications but they gained enough popularity when they are introduced in LED applications.
The aluminum design operates at a higher current for mounted LEDs, keeping the temperature tolerance within specified limits.
The automotive and RF industries go the extra mile to utilize the advantages of these products and make them available for the common man.
Aluminum PCBs are an effective choice for applications involving heat dissipation because they provide an ideal exit of the heat with the help of dielectric, maintaining the overall temperature of the project design.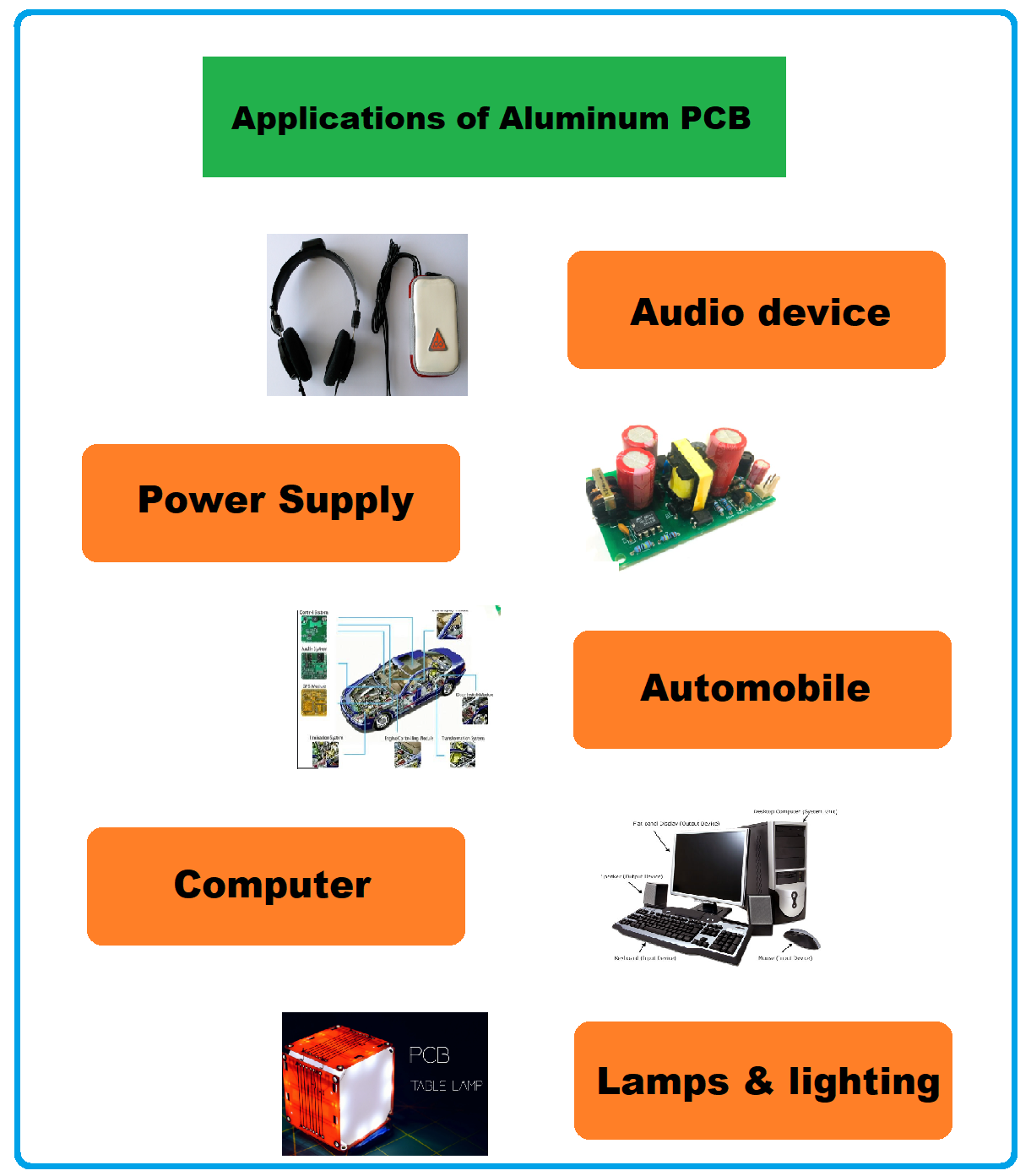 That's all for today. I hope you have found this article useful and effective. If you intend to work online, you must look at the top online PCB design service. I have tried my best to provide you most relevant and useful information that resonates with your field of interest. If you feel skeptical or have any questions, you can ask me in the comment section below without any hesitation. I'd love to help you according to the best of my expertise. Feel free to keep up updated with your valuable feedback and suggestions, they allow us to give you quality work so that you keep coming back for what we have to offer. Thanks very much for reading the article. Stay Tuned!