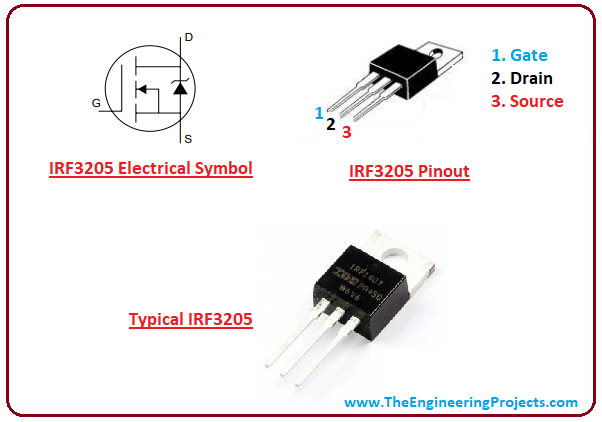 Hi Fellas! I am back to give you a daily dose of valuable information. Today, I'll give you a detailed Introduction to IRF3205. It is an N-Channel HEXFET Power MOSFET that comes in a TO-220AB package and operates on 55V and 110A. It is mainly used for dynamic dv/dt rating and consumer full bridge applications. Additionally, it falls under the category of ultra LOW on-resistance devices based on Advanced Process Technology, making it a building block of the electronic applications where fast switching is a major concern. In this post, I'll cover each and everything related to this transistor, its main features, working, pinout, and applications. Let's get down to the nitty-gritty of this tiny component.
Introduction to IRF3205
IRF3205 is an N-Channel HEXFET Power MOSFET that is mainly based on Advanced Process Technology and used for fast switching purpose.
International Rectifier has introduced this device with the aim to generate extremely low on-resistance per silicon area.
This power MOSFET is known as the voltage controlled device that mainly contains three terminals called:
The voltage at Gate Terminal is used to handle the conductivity on other two terminals.
The low thermal resistance and operating temperature around 175°C make this device an ideal choice for commercial industrial applications, providing power dissipation of around 50 watts.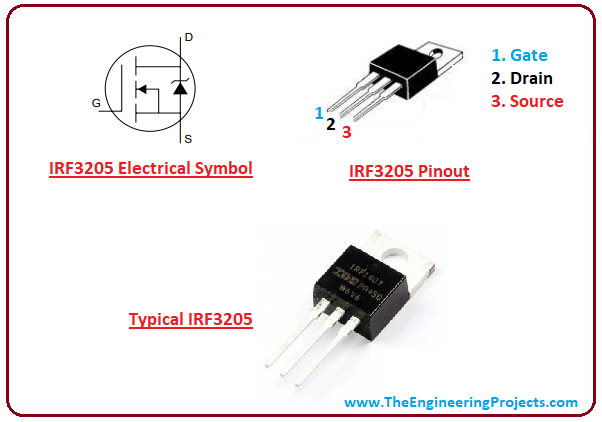 This Power MOSFET differs from the normal MOSFET, where former comes with gate layered with thick oxide and can experience high input voltage while the later comes with thin gate oxide without the ability to withstand high voltage i.e. applying high voltage will drastically affect the overall performance of the device.
It features benchmark high package current ratings - appropriate for high power DC motors, power tools, and industrial applications.
IRF3205 Pinout
IRF3205 Pinout consists of 3 Pins in total.
All these pins, along with their name & type are shown in below table:
IRF3205 Pinout
Pin#
Name
Symbol
Type
Function
1
Gate
G
P-Type
Controls the current between Drain & Source
2
Drain
D
N-Type
Electrons Emitter
3
Source
S
N-Type
Electrons Collector
Movement of electrons plays an important role in the current flowing from drain to source terminal.
The output current is highly dependent on the voltage applied to the gate terminal.
Working
The gate, source and drain in this MOSFET are analogous to the base, collector, and emitter in the BJT (Bipolar Junction Transistors)
The source and drain are made up of n-type material while component body and the substrate is made up of p-type material.
Adding silicon dioxide on the substrate layer gives this device a metal oxide semiconductor construction.
It is a unipolar device where conduction is carried out by the movement of electrons.
An insulating layer is inserted in the device that makes gate terminals separated from the entire body. The region between drain and source is called N-channel that is controlled by the voltage present at the gate terminal.
MOSFET stays ahead of the curve when they are compared to BJT as the former needs no input current to control a large amount of current on remaining two terminals.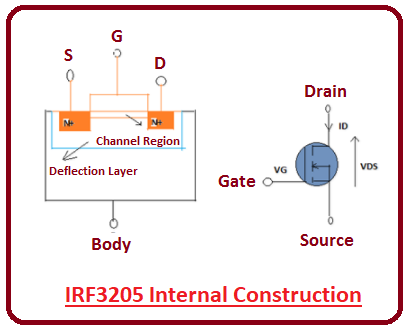 Applying a positive voltage at this MOS structure will change the charge distribution in the semiconductor where holes present under the oxide layer deal with the force, allowing the holes to move downward.
It is important to note that, the bound negative charges are connected with acceptors atoms that are mainly responsible for flocking the depletion region.
The electrons, if applied with abundance, will help in increasing the overall channel conductivity, changing the substrate into the N-type material.
IRF3205 Proteus Simulation
As I have told you earlier, IRF3205 is an N-channel Mosfet used for fast switching, that's why it's an ideal selection for designing H-Bridge.
I have designed this Proteus Simulation where I have converted DC voltage into AC and if you look at it closely then I have used IRF3205 MOSFET in the H-Bridge:

Moreover, I have used IRF5210 for the counter P-Type Mostel in H-Bridge.
If you run your simulation then you will get AC sine wave in your oscilloscope, as shown in below figure: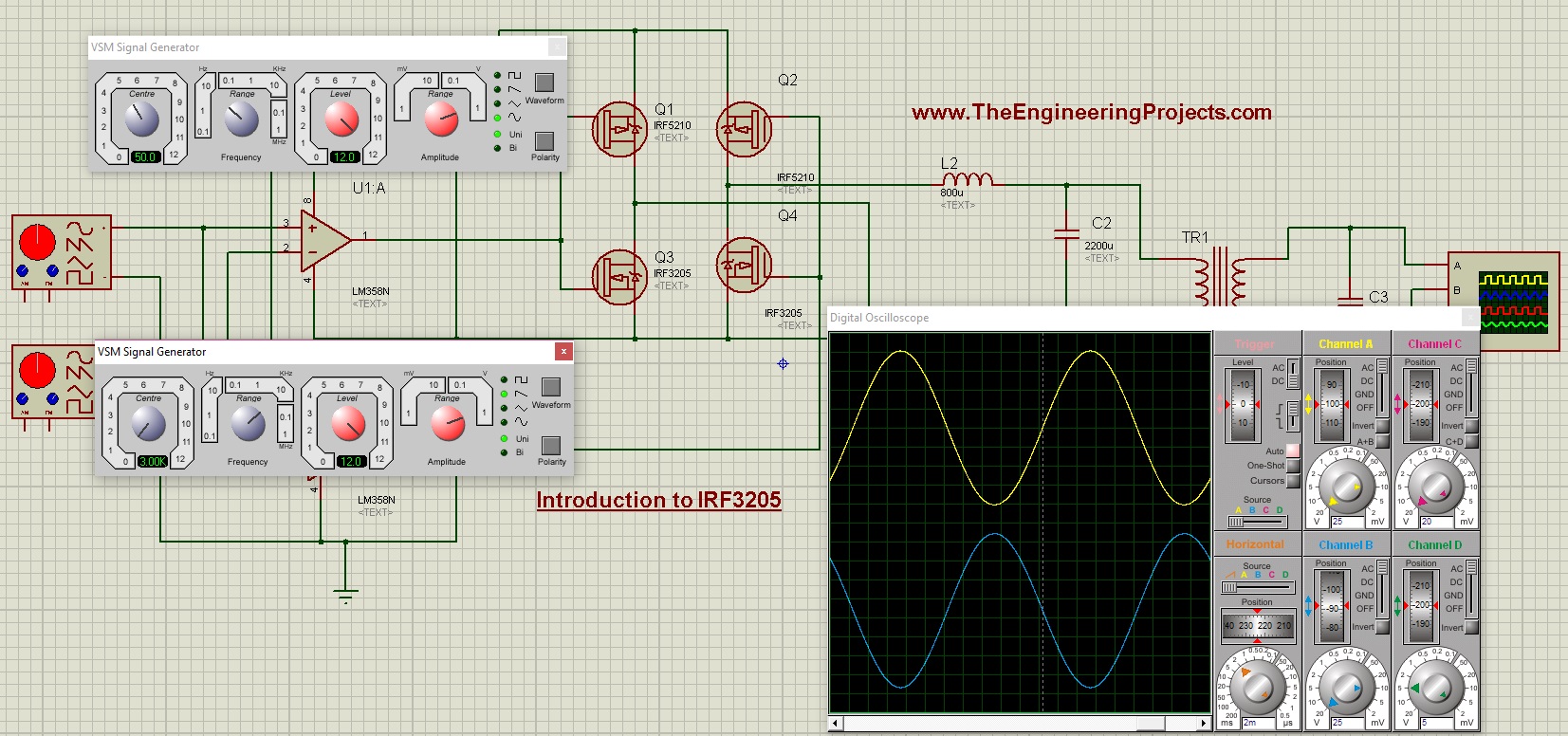 You can download this simulation by clicking the below button:
IRF3205 Features
Dynamic dv/dt Rating
N Channel power MOSFET
55V, 110A
TO-220
175°C Operating Temperature
Fully Avalanche Rated
Ultra Low On-Resistance
Advanced Process Technology
Fast Switching
IFR3205 Absolute Maximum Ratings
Following figures shows the absolute maximum ratings of IRF3205.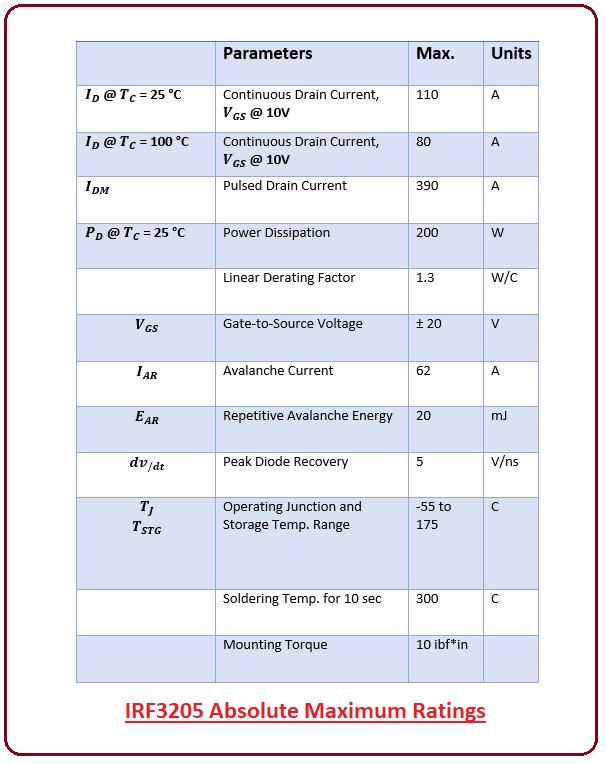 These are the stress ratings that are important for the execution of the electronic circuit. If these stress ratings are exceeded from absolute maximum ratings, they can affect the overall nature and performance of the project, resulting in keeping your project in a total stall.
Similarly, if these ratings are applied for the maximum period of time above normal operating conditions they can affect the reliability of the device.
It is preferred to get a hold of these ratings before placing the device in the circuit, making sure if it undergoes the same operating conditions and stress ratings as provided by the manufacturer.
Applications
Fast switching applications
Consumer Full-Bridge
Industrical and Commercial applications
Full-Bridge
Push-Pull
That's all for today. I hope I have given you everything you needed to know about IRF3205. If you are unsure or have any question, you can ask me in the comment section below. I'd love to help you in any way I can. Feel free to keep us updated with your valuable feedback and suggestions - they help us provide you quality work as per your needs and requirements. Thanks for reading the article.