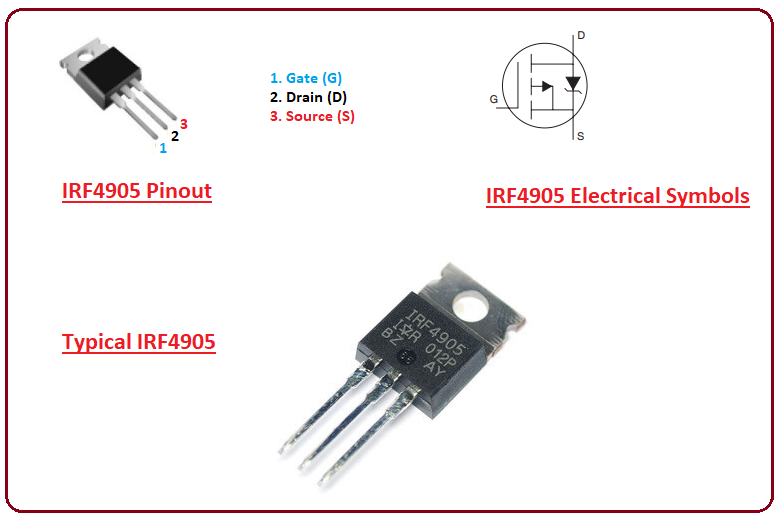 Hey Guys! Welcome you onboard. Today, I'll discuss the details on the Introduction to IRF4905. It is a P-Channel HEXFET Power MOSFET available in a TO-220AB package and is based on Advanced Process Technology. It is mainly used for fast switching purpose, capable of providing ultra-low on-resistance. This tiny device comes with three terminals called gate, drain and source where the gate terminal is used to control the current on remaining two terminals. The area between source and drain is known as a channel that is widely dependent on the voltage applied to the gate terminal. In this post, I'll cover each and everything related to this P channel MOSFET, its main features, working, pinout and applications. Let's jump right in and explore everything you need to know.
Introduction to IRF4905
IRF4905 is a P-Channel HEXFET Power MOSFET available in a TO-220AB package and is based on Advanced Process Technology.
It comes with three main terminals called drain, gate and source that are analogous to the emitter, base, and collector in the BJT (Bipolar Junction Transistors)
It is a unipolar device where only one charge carriers i.e. holes are responsible for the current conduction.
There are two types of MOSFET available for the development of electronic projects i.e. P channel and N channel both make use of single charge carriers where former contain holes as the major charge carriers and later contain electrons as the major charge carriers.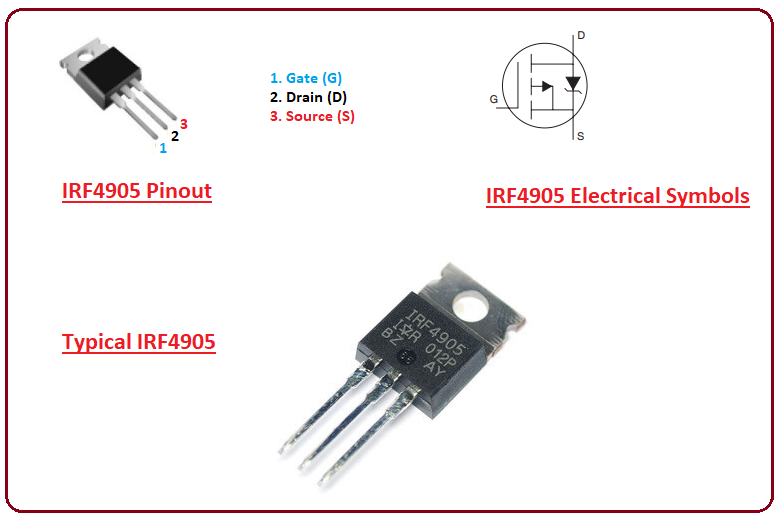 This device falls under the category of Power MOSFET, different from normal MOSFET, where former contains thick gate oxide that can withstand high input voltage while the later comes with thin gate oxide, making it unable to bear high input voltage.
Working of IRF4905
In this MOSFET transistor, gate plays a vital role to handle the conductivity in the channel between drain and source. As it is a P-Channel - holes will be responsible for the current conduction.
In this components, the body and substrate are composed of N-type material while the drain and source are composed of P-type material - Laying out an exact oppositive composition as compared to N-Channel MOSFET.
Following figure shows the internal construction of IRF4905.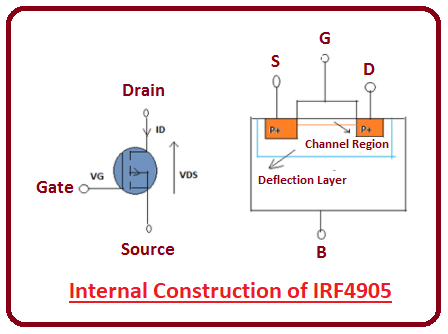 Applying negative voltage at the gate terminal will move the oxide layer downward in the substrate layer with a strong repulsive force, allowing positive holes to be accumulated around the gate region.
The negative voltage applied at the gate terminal attracts the holes, helping to produce the p-type conducting channel using n-type substrate material.
IRF4905 Pinout
Following figure shows the pinout of IRF4905.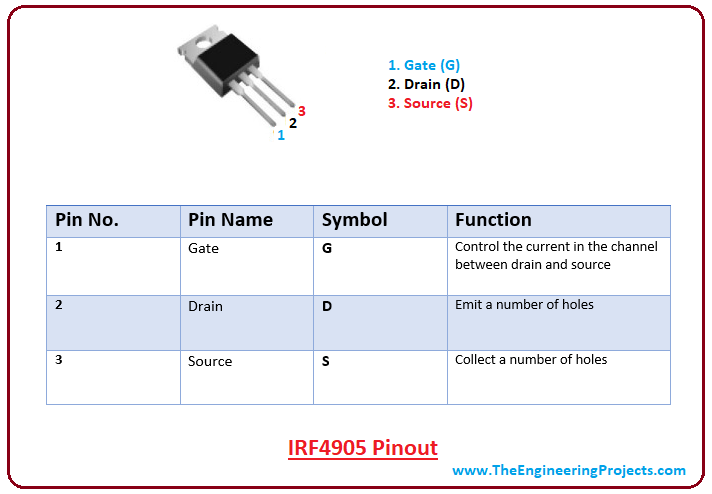 IRF 4905 Features
Dynamic dv/dt rating
Advance Process Technology
P-Channel
Fast Switching
175 C operating temperature
Fully Avalanche Rated
Ultra Low On Resistance
IRF4905 Absolute Maximum Ratings
Following figure shows the absolute maximum ratings of this P-Channel MOSFET.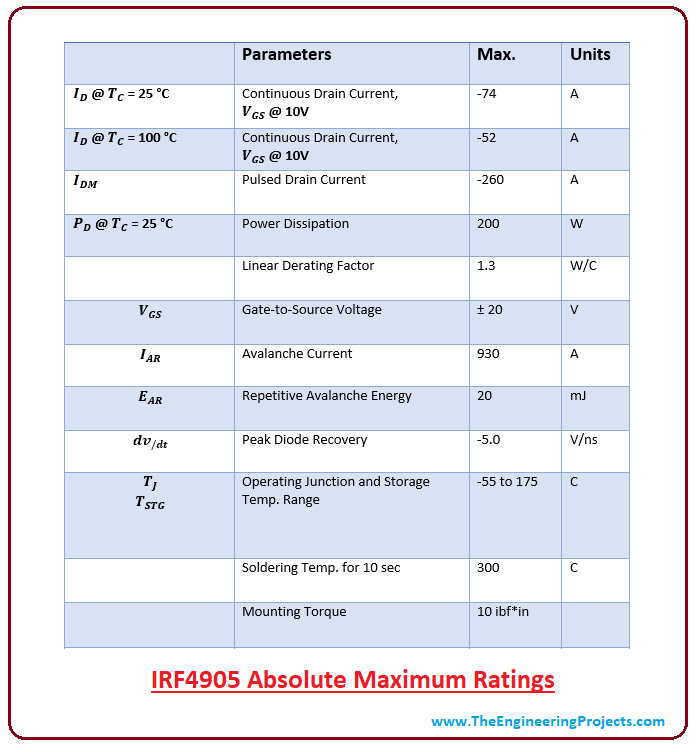 These are the stress ratings of this transistor which play a vital role in the execution of the electronic circuit. If these stress ratings are exceeded from absolute maximum ratings, they can affect the overall performance of the project.
Also, if these ratings are applied for the maximum period of time above normal operating conditions, they can drastically affect the reliability of the device.
It is advised to check these ratings before placing the device in the circuit in order to avoid any hassle in the future.
Applications
Commercial and Industrial Applications
Fast Switching
Amplification Purpose
That's all for today. I hope you have found this article useful. If you are feeling skeptical or have any question, you can ask me in the comment section below. I'd love to guide you according to the best of my expertise. You are most welcome to feed us with your valuable suggestions - they help us provide you quality work as per your needs and requirements. Thanks for reading the article.