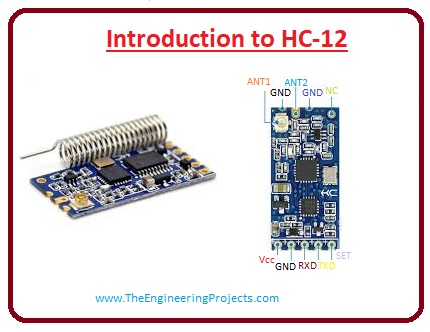 Hello friends, I hope you all are doing great. In today's tutorial, we will have a look at
Introduction to HC-12
. It is a wireless data transmitter and receiver module, that uses 433 megahertz frequency and can communicate to one thousand meter distance. It also has ability to communicate with more than one microcontrollers existing at longer distances. This module starts its operation at 3.2 volts to 5.5 volts, for its safe operation, it is also connected with a
capacitor
to reduces ripples in the output of battery.
This Bluetooth module installed in industries to control different process and machines. It also used in the circuitry of different security systems. This module uses silicons LABs Si4463 for (radio-frequency) RF data transmission features. In today's post, we will have a look its working, features, pinout and applications in different circuits. So let's get started with Introduction to HC-12.
Introduction to HC-12
 HC-12 is a new invention for serial wireless data transmission Bluetooth modules.
Its operating frequency range is from 433.4 to 473 megahertz, large no of channels can be tuned on this frequency range.
Maximum sending information power of this module is one hundred megawatt or twenty-decibel milliwatts, data receiving strength is -117 decibel milliwatts with the baud rate of five thousand bytes per seconds in the air.
This device use stamp hole packaging for patch soldering, having a dimension of 27.8-millimetre x 14.4-millimetre x 4 millimetres, consisting of antenna cap that make easier to install in different circuitry.
This module also consists of a printed circuit board (PCB) antenna socket for the connection of an outer 433 megahertz frequency antenna can be connected by coaxial wire.
on this module, there is another antenna for the connection of outer antenna that is connected with the spring.
Both of these antennas connections you can use according to your requirements.
This data transmission module also consists of the microcontroller so it can very easily get program not need special sperate programming module.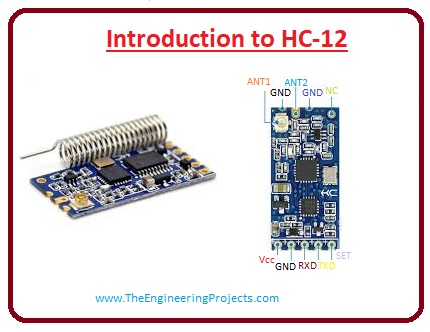 HC-12 Pinout
Now we discuss the pinouts of HC-05.
| | | |
| --- | --- | --- |
| Pin# | Type |                                         Parameters |
| Pin#1 | Vcc | At this pin input supply is provided to this module, the range of direct current source is 3.2 volts to 5.5 volts, and the load connected with it should be two hundred milliamperes. One thing you should keep in mind that when this module sending data tries to connect 1N4007 diode in series voltage source if its value is larger than 4.5 volts for reduction of heating. |
| Pin#2 | GND | This pinout is connected with the ground. |
| Pin#3 | RXD |   It is UART (Universal Asynchronous Receiver/Transmitter) input data and TTL (Transistor-Transistor Logic) pinout. The resistance of one kilo is linked in series within the module. |
| Pin#4 | TXD | it is UART (Universal Asynchronous Receiver/Transmitter) output data and TTL (Transistor-Transistor Logic) pinout. With this pinout, one-kilo ohm resistance is connected in series. |
| Pin#5 | SET | This pinout is for the setting of different parameters at active low level. One kilo ohm resistance is also connected with it in series. |
| Pin#6 | ANT | This pinout is for 433 megahertz antenna. |
| Pin#7 | GND | it is the ground pinout. |
| Pin#8 | GND | This pinout is also connected with the ground. |
| Pin#9 | NC | It is not used for any connection. |
| ANT1 | ANT | It is IPEX20279-001E-03 antenna socket. |
| ANT2 | ANT | 433MHz spring antenna solder eyelet. |
The pinout from one to six consists of 2 bonding pads, with exterior half- holes bondings pads are manufactured for soldering.
When the interior bonding pad antenna (ANT2) of pinout six is employed for linking, then the antenna connected with spring can be soldered with the hand.
Let's see a diagram of the pinout.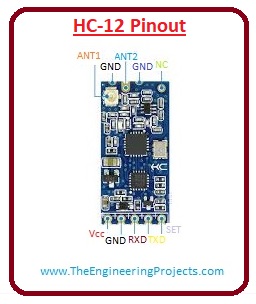 Features of HC-12
This module has the ability to send and receive data to almost one thousand kilometres with a baud rate of five thousand bps.
Its operating frequency range is from 433.4 to 473 megaHertz, to the hundreds of communication channels.
Its data transmission power is almost a hundred megawatt or twenty decibels.
It operates at 3 different modes according to circuitry in which it employed.
A microcontroller is configured on this module so there is no need of special programming device.
It transmits a large number of bytes bits to receiving module.
It used a serial port for data transmission.
It operating voltage range is from 3.2 volts to 5.5 volts.
It used the UART and TTL protocol for interfacing with other devices.
It operates at minus forty degree Celsius to plus eighty-five degree Celsius.
Where to use HC-12
HC-12 easily available and less cost Bluetooth module and can very easily be interfaced with other microcontrollers.
These devices used in only pair and for simplex transmission of data is done by this device. That means its transmitter is used only for sending of data and receiver for data receiving.
In a simple word there are two points one and two we can send data from one to two not back from two to one.
with sending information to one thousand meter distance it is also used for short-range almost three meters of data transmission.
HC-12 Applications
These are some important applications of HC-12 that are described here with detailed.
 Different wireless sensors are consists of this module.
For the control of robotic instruments, it used in these modules.
In industries, different machines are controlled from larger distance.
 POS (point of sale) systems also used this module.
It also used in the keyless automobiles entry system.
That is a complete article on HC-12 I have mentioned each and everything related to HC-12 in this post if you have any question ask in comments. Thanks for reading.