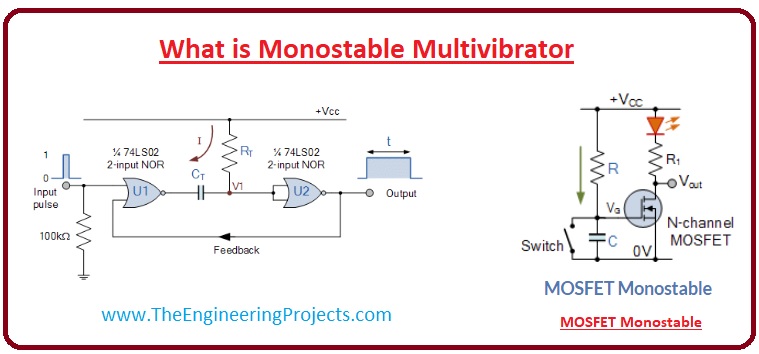 Hello fellows, I hope you all are doing great. In today's tutorial, we will have a look at What is Monostable Multivibrator. It is such circuitry that produces a pulse at its output also known as one shot. It generates output pluses according to corresponding circuitry requirements. Its main feature is that after the generation of output pulse it regain its stable state and not produce any further output pulse till not trigger again. This circuitry can be considered as a biased form of multivibrator (such circuitry that used for implementation of 2 state modules like timers) that is (on) operating in the starting condition till the triggered point then becomes unstable on its own. In today's post, we will have a look at its circuitry, construction, working and related parameters. So let's get started with What is Monostable Multivibrator.
What is Monostable Multivibrator
Monostable Multivibrator is used for generation of a square waveform in different circuitry and this square waveform generator is mostly used than other square wave generators.
This wave generator belongs to a group of wave generators is known as Relaxation Oscillators.
It circuitry arrangements are such that 2 switching circuits that used a transistor as a switch are assembled such that output of one transistor is the input of second transistor.
This circuitry also consists of a capacitor and resistor network to create feed-back tank circuitry.
There are 2 different working conditions in any multivibrator circuit but monostable has only one 'on' state.
This vibration generator comes back to its original condition after a set time of resistor-capacitor circuitry.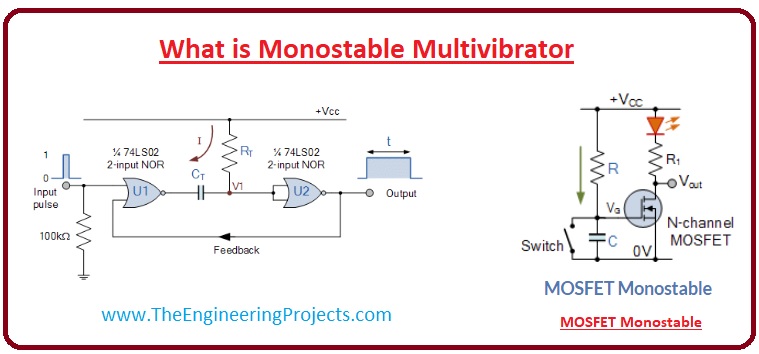 Construction of Monostable Multivibrator
The physical construction of this module is shown in a given figure.
You can see there are 2 transistors are connected in such configuration that both of these operating as input and output provider to each other.
The collector (c) of the first transistor is linked with the base (b) of the second through a capacitor denoted as C1 and base terminal of first transistor that denoted as Q1 is attached with a collector of second transistor by the resistance R2 and capacitor.
A direct current source is connected with base (b) point of first transistor by the resistance R3. The input pulse is provided to base (b) of first transistor with the capacitor denoted as C2.
In figure resistance, (RL1) and resistance (RL2) is the load connected with these two transistors.
When any transistor goes into stable state, then at input pulse is provided to vary its condition. With variation in condition, transistor stays in this condition for time interval set by the resistance-capacitor time constant then get the earlier condition.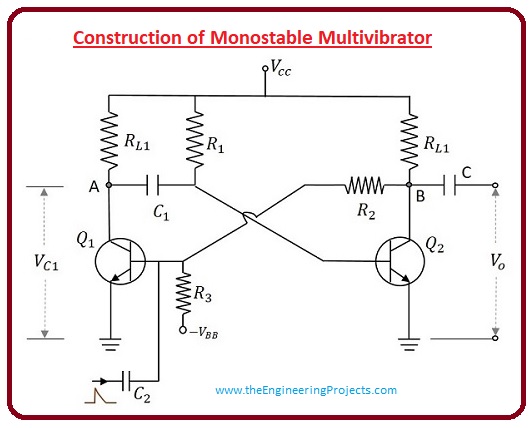 Monostable Multivibrator Waveform
This wave generator produces a waveform of rectangle shape having low and higher amplitude, the first end of this wave generates with the input trigger signal and the second end generates resistor-capacitor time constant.
This resistance-capacitor time constant changes its value to generates large no of pulses that have a specific time interval between them by following the trigger signal provided at input. This assembly is shown in a given figure.
The resistor-capacitor time of this vibrator can be change by changing the capacitance of capacitor or resistance value of both.
The circuits also have the ability to do increment in the dimensions of a wave as the frequency of output wave remains similar to input signal the difference between them is the width of the waves.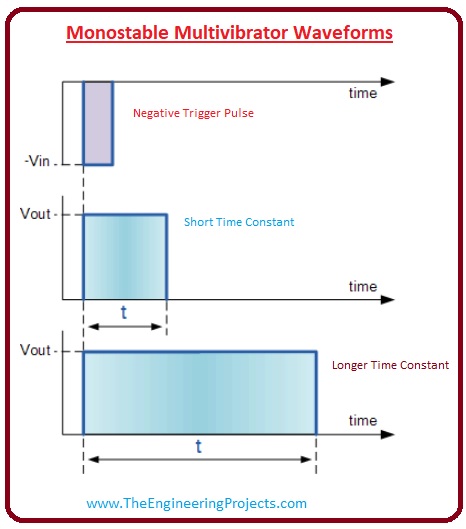 TTL Monostable Multivibrators
Above we discussed that this vibration generator can be constructed from individual elements like a transistor, but it can also be manufactured by different ICs.
This given circuitry explains how the using only two NOR gates we can construct monostable vibrator.
As we are familiar with the operation of NOR gate that its input is low than output will be high and if input is high then the output will be low (0).
So at the start, the input is 0 then the output will be higher mean '1'.
The resistance Rt linked with the input is also at a high level '1' it means that the quantity of charge at the plates of capacitor is similar.
The voltage (V1)  is equivalent to this voltage so the output of NOR is at level 0.
If the positive signal is provided to the input at a time (t=0) then the output of NOR gate will be '0' due to this the capacitor will get a discharge.
Due to the discharging of the capacitor, the input of second NOR gate is '0'  that converts into high output '1'. This condition is called second condition of circuitry, in which output voltage is equivalent to (+Vcc).
This condition continuous on second NOR gate until the capacitor does not get charged again.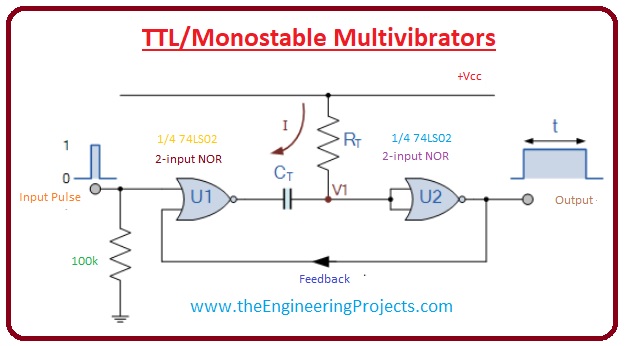 Applications of Monostable Multivibrator
These are some important applications of Monostable Multivibrator that are described here.
Due to time delay capability, it is mostly used in different timer circuits.
It also used in different storage circuits.
It also used to provide input to other pluse generator circuits.
It also has ability to reproduce damage pulses again.
Advantage of Monostable Multivibrator
These are some benefits of this pulse generator over other pulse generation modules.
It needs only one single pulse to start its operation there is no need of extra pulse for its operation.
Its construction is very simple and can be constructed easily.
Due to simple construction its price is also less.
So, this the complete article on  Monostable Multivibrator if you have any question about it ask in comments. I will solve your problems. Thanks for reading.