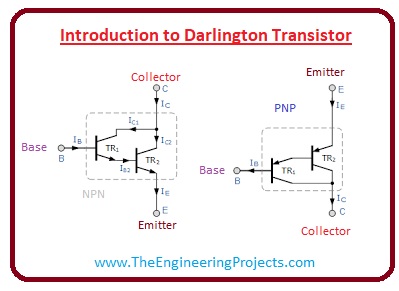 Hello friends, I hope you all are doing great. In today's tutorial, we will have a look at detailed Introduction to Darlington Transistor. It was named "Darlington" as its inventor's name was Sidney Darlington, who was an electrical engineer and belonged to the United States of America. Such a circuit configuration that consists of 2 PNP or NPN transistor makes Darlington configurations. This transistor configuration is used for amplification and switching circuits. The signal amplified by the first transistor also amplified by the second transistor & due to this two-time amplifications, this arrangement provides a high gain output signal. This transistor operation is similar to normal single transistor that has a base, emitter and collector. Its current gain value is almost one thousand. In today's post, we will have a look at its working, structure, applications and other related factors. So let's get started with Introduction to Darlington Transistor.
Introduction to Darlington Transistor
Darlington transistor ( also known as Darlington pair) comprises of 2 bipolar junction transistors, connected in such a way that they behave like a single transistor.
This transistor converts low base current to high output current (collector current).
Its construction is such that emitter terminal (E) of the first transistor that is input connected with the second transistor base (B) terminal and collector (C) terminals of both transistors are linked together with one another by a wire.
In this configuration current amplified by the first transistor further amplified by the second transistor and its give high gain output.
There are two kinds of power dissipation occurs in this transistor first is maximum Collector-emitter (CE) and second is direct current gain. The value for maximum Collector-emitter (CE) is thirty volts, sixty volts, and eighty volts.
As the gain value of this transistor is one thousand so less value of IB needs to using it in different amplification and switching circuits.
Its most important factor is that its impedance at the input is high that cause to decrement at the output due to this we get a high-value signal.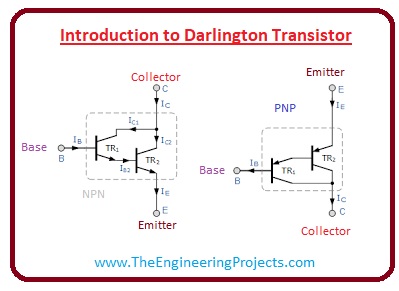 Darlington Transistor Structure
The physical construction of the Darlington pair is drawn in given below figure. In this figure, we are working on NPN transistors for construction of the required circuitry.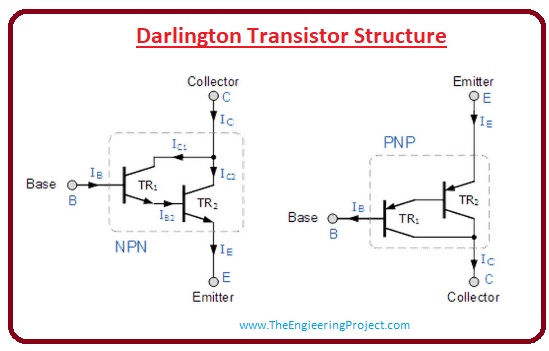 You can see that collector of these 2 transistors are linked with each other and emitter terminal of transistor denoted as TR1 connected with the base (B) of the second transistor to provides the current at base.
This circuitry gets ß multiplication due to Ib and Ic, in this case, the value ß  is larger than one, its mathematical form is.
IC= (IC1+IC2) IC= (ß1) . (Ib)+ (ß2). (Ib2)-----(1)
While the value of Ib of TR1 is equivalent to the emitter current of it and the emitter of the first transistor is linked with the base of second transistor TR2.
(Ib2) = (Ie1) =(Ic1) + Ib) =(ß1).(Ib) +(Ib) = (IB).(ß1 + 1)
If we put the value of Ib2 in equation (1) then we have.
Ic=(ß1). (Ib)+ ß2.Ib(ß1+1) Ic= (ß1).(Ib)+ (ß2).(Ib)(ß1) + (ß2).(Ib) Ic= (ß1+(ß2.ß1)+ ß2).Ib
In these equations the ß1 is the gain of first transistor and ß2 is the gain of second transistor.
Sziklai Transistor Pair
This type of transistor configuration was first time created by George Sziklai who belongs to Hungry, its name is due to this scientist who created it. It comprises of NPN and PNP transistor that are connected in given below configuration.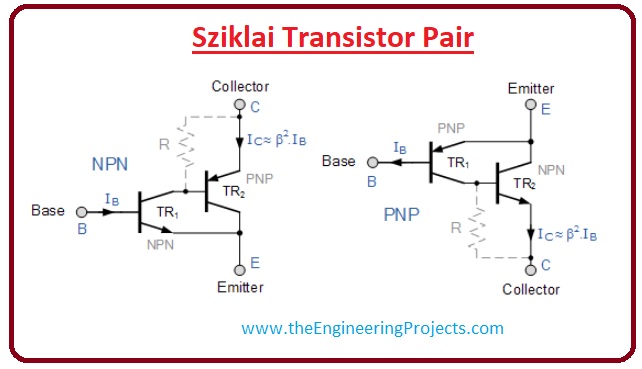 The arrangement of NPN and PNP transistors in circuitry has a benefit that this Sziklai combination does a similar function like normal Darlington transistor, but it needs 0.6 volts extra for its starting operation.
The circuitry of this transistor combination is shown in the given above figure.
You can see that the voltage drop of this configuration across base and emitter terminals is equivalent to the voltage drop across a single transistor.
The operation of Sziklai is slower than the Darlington pair transistor. These transistor pair are normally used for pull-push arrangements and different sound amplifier circuits.
But common thing in these two transistor arrangments is that they use in NPN and PNP transistor for their construction.
Darlington Transistor Example
For a practical understanding of the Darlington pair transistor, we solve an example.
Let's suppose that we have a load that consuming the power of sixty watts is connected with fifteen volts supply and 2 NPN transistor in Darlington pair arrangements.
The gain value of the first transistor is thirty and another transistor gain value is ninety-five. So by using these given parameters, we calculate the value of Ib to operate the load.
When the output load starts to operate then collector current flows this collector current is equal to the current consumed by the load.
IL= Ic
As we know that P=VI. So,
Ic= P/I
=60/15= 4 amperes
As above we discussed that the value of ß is 30 and for second is 95, so the value of Ib can be calculated by this equation.
Ic =[ß1 +(ß2 x ß1)+ ß2] x Ib
Ib=(Ic)/[ß1 +(ß2 x ß1)+ ß2]
Ib=4/[30 +(95 x 30)+ 95]
Ib=4/2975
Ib=1.3mA
From this, we can conclude that if we provide 1.3 milliamperes to the first transistor, load start its operation when we disconnect current load will off.
Advantages of Darlington Transistor
These are some important benefits of this transistor arrangement that are described here with detailed.
It gains value is very high almost one thousand and sometimes greater than it, so a small value of Ib will be amplified to the larger output current.
Its resistance at the input is very very high that decreases the resistance value at its output.
 As this circuit is very easy to construct so it is easily available in numerous structure in a single casing.
Disadvantages of Darlington Transistor
Where it has some benefits there it also has some drawbacks that are described here.
Its main disadvantage is that its saturation voltage is higher than the normal transistor.
The value of saturation voltage is 0.65 volts for Darlington pair while in case of a transistor is 0.1 to 0.2 volts.
Another problem is that its switch time increases if the first transistor does not send Ib to the second current within the required time. That makes its operation slow.
In the presence of large frequency signal, it shows the high phase shift that is low in a single transistor, due to this it losses stability when negative feedback is provided to this circuitry.
That is the detailed article on the Darlington Transistor I have mentioned every aspect related to this transistor. If you have any issue ask in comments.Thanks for reading.