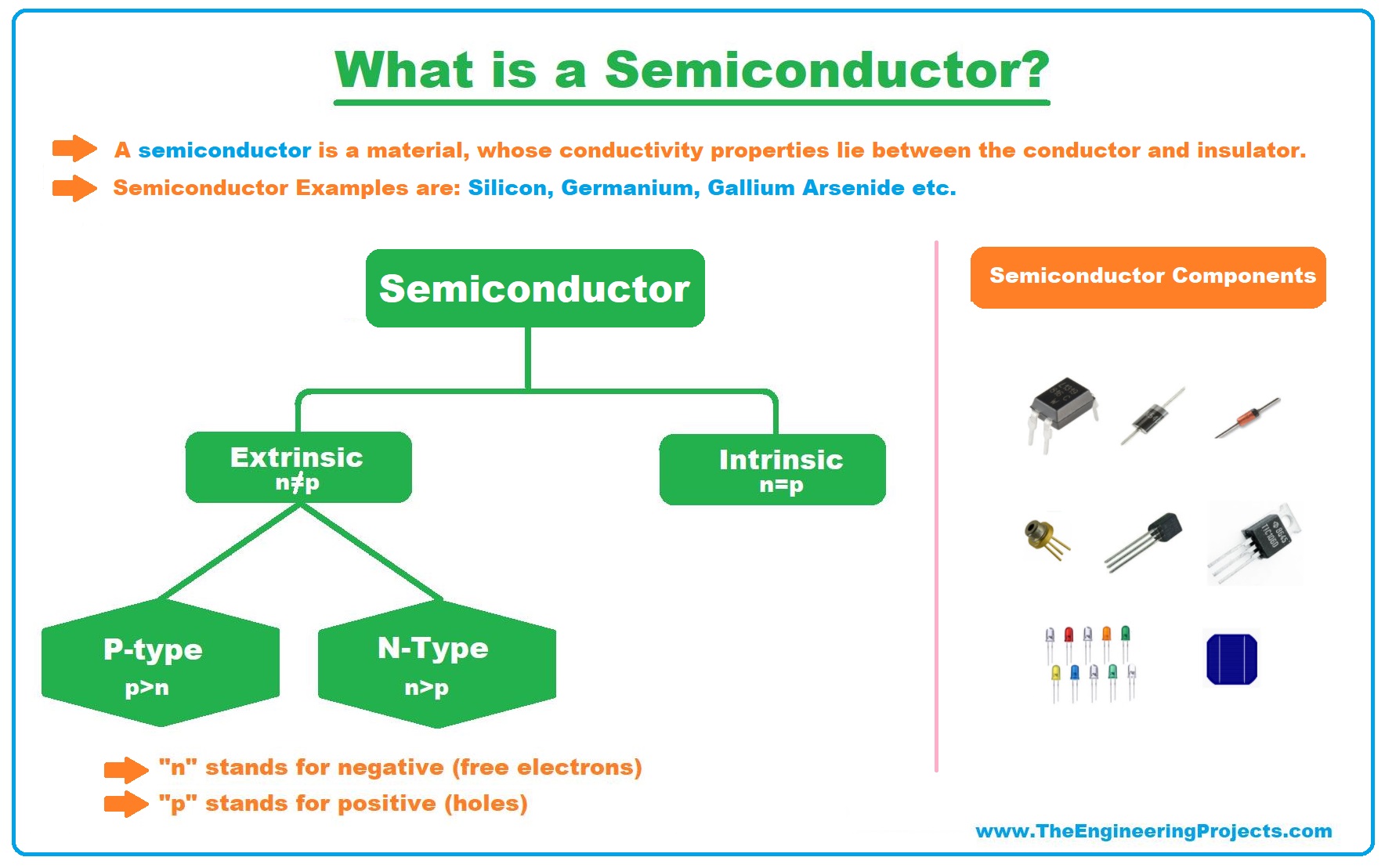 Hello Friends, I hope you're well today. Today, we will have a look at the detailed overview of Semiconductors. We will discuss semiconductors examples, semiconductors applications, properties of semiconductors, semiconductor companies, most commonly used semiconductor materials etc. in detail.
After the discovery of electricity(credit goes to Benjamin Franklin), scientists have divided earthly materials into 3 main categories, depending on their electrical conductivity, titled:
Conductor: has the ability to conduct electricity i.e.

Copper, Silver, Gold, Aluminium etc

.
Insulator: doesn't allow electrical charges to flow through it i.e. Plastic, Glass, Rubber, Paper etc.
Semiconductor: is a material whose properties stand between conductor and insulator i.e. silicon, germanium, gallium arsenide etc.
Let's dive in.
What is a Semiconductor?
A

semiconductor

material is defined by its ability to conduct electricity and its conductivity properties lie between conductor and insulator.
Under specific conditions, Semiconductors have the ability to act either as a pure conductor or a pure insulator.
Moreover, semiconductors(after creating a PN junction) can also control the direction of the flow of electrical charges, which is not the case with conductors(as they allow current to flow in both directions).
Examples of Semiconductor materials are Silicon, Germanium, Gallium Arsenide etc., where Silicon is the most commonly used.
Gallium arsenide stands as the second-best semiconductor material and is used in solar cells, laser diodes, microwave frequency integrated circuits etc.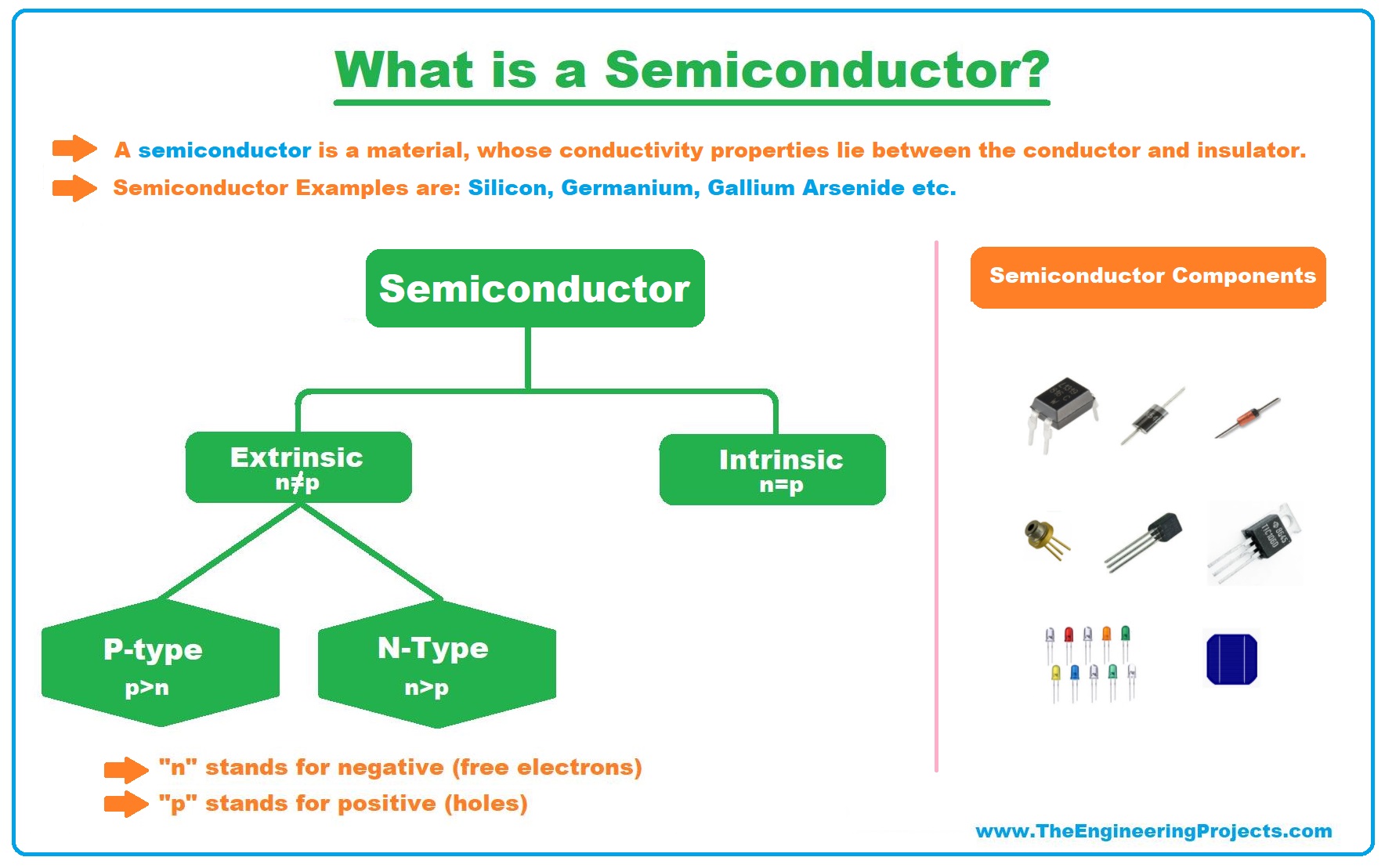 Why do they behave as semiconductors?
Pure semiconductors normally belong to the

4th column of the periodic table

and thus have an

equal number of electrons & holes

in their valance shell(which is 4).
So, in pure form, there's no free electron or hole available for the

conduction of electricity

and thus it acts as an insulator.
By a process called

Doping

, impurity is added to the pure semiconductor material, which generates either free electron or hole in it and the semiconductor material starts acting as a conductor.
An increase in temperature can also provide enough energy to

charge carriers

and they can break their

covalent bonds

and start conducting(In pure conductors, resistivity increases with an increase in temperature).
What are semiconductors used for?
Semiconductors have brought a revolution in the field of electronics. Semiconductors are used for designing electronic components:
The most commonly used semiconductor component is the Diode., which allows the flow of current in one direction only and thus acts as a one-way electronic valve.
After the diode, transistor was invented, which is used for fast switching or current amplification.
The invention of diode & transistor opened the door to nanotechnology and new integrated chips were designed

i.e. microcontrollers,

ULN2003, CD4050 etc.
All these integrated chips have semiconductor components embedded in them.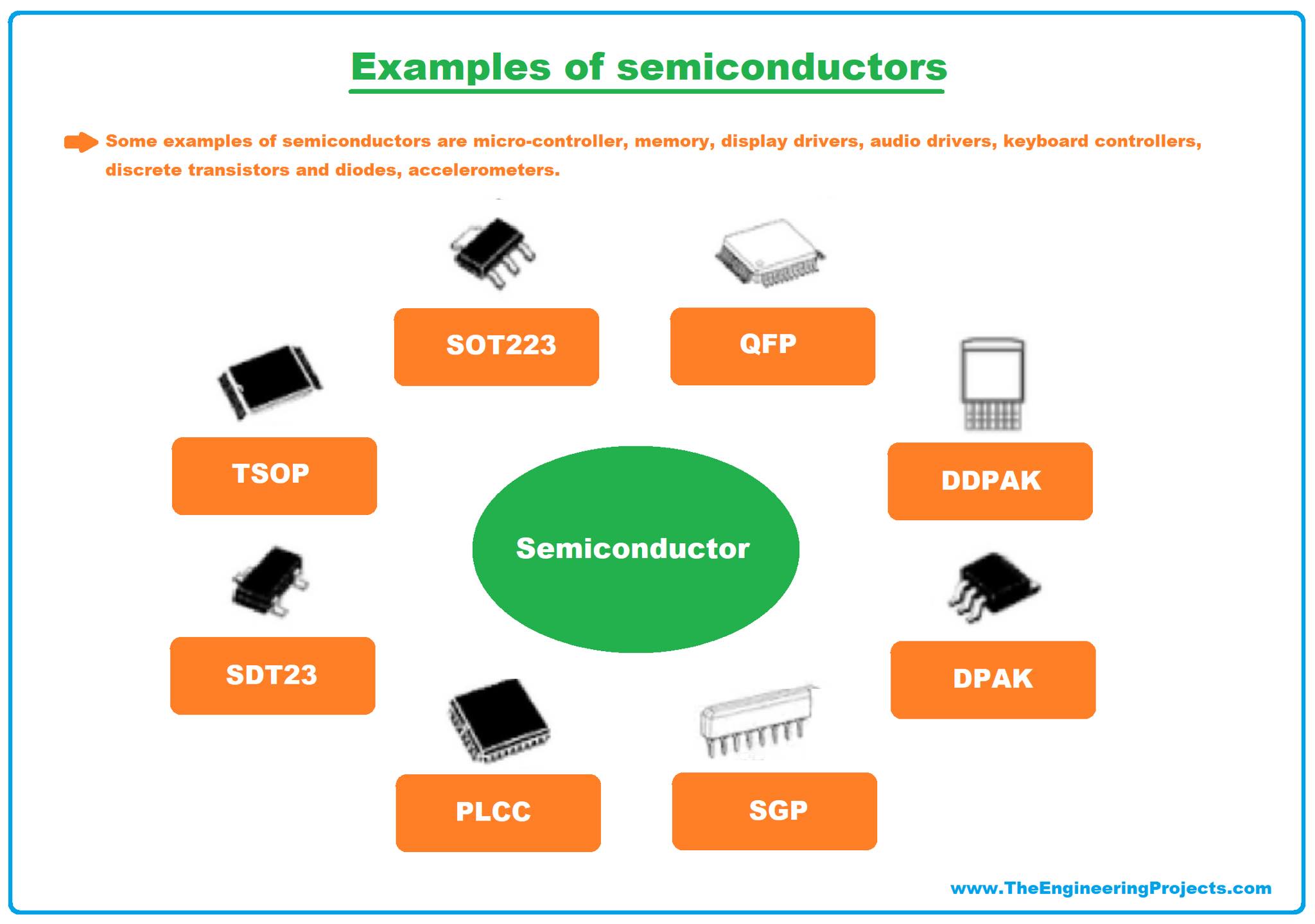 In simple words, the semiconductor has brought an automatic control in electronic circuits, which isn't possible with conductors.
Types of Semiconductors
Engineers have divided Semiconductors into two main types, named:
Intrinsic Semiconductors.

Extrinsic Semiconductors

.
Intrinsic Semiconductors
Semiconductors in their pure form are called Intrinsic Semiconductors and are barely useful as they are neither good conductors nor good insulators.
In the pure forum, the valence shell(of semiconductor material) carries an equal number of holes & electrons(silicon has 4 valence electrons).
Extrinsic Semiconductors
Impurities(i.e. Boron, Arsenic, Antimony etc.) are added to the pure Semiconductors by a method called Doping, which increases the conductive behavior of semiconductors and such doped semiconductors are known as Extrinsic Semiconductors. (We will discuss doping shortly)
Depending on the doping material used, extrinsic semiconductors are further divided into two types, named:
N-Type semiconductors

.

P-Type semiconductors

.
N-Type Semiconductors
When a pentavalent(having 5 valence electrons) material is used as a doping agent,

four of its electrons in the valence shell

create covalent bonds with the neighboring Si atoms, while the 5th electron(of pentavalent element) becomes a

free electron

. Such extrinsic semiconductors are called N-Type Semiconductors.
In N-Type Semiconductors, the majority charge carriers are electrons(negatively charged).
Pentavalent Elements normally used in the doping process are

Antimony, Arsenic, Phosphorous etc.

As a semiconductor is accepting a free elector so it is termed as Acceptor, while the pentavalent element is termed as Donor as it's donating its electron.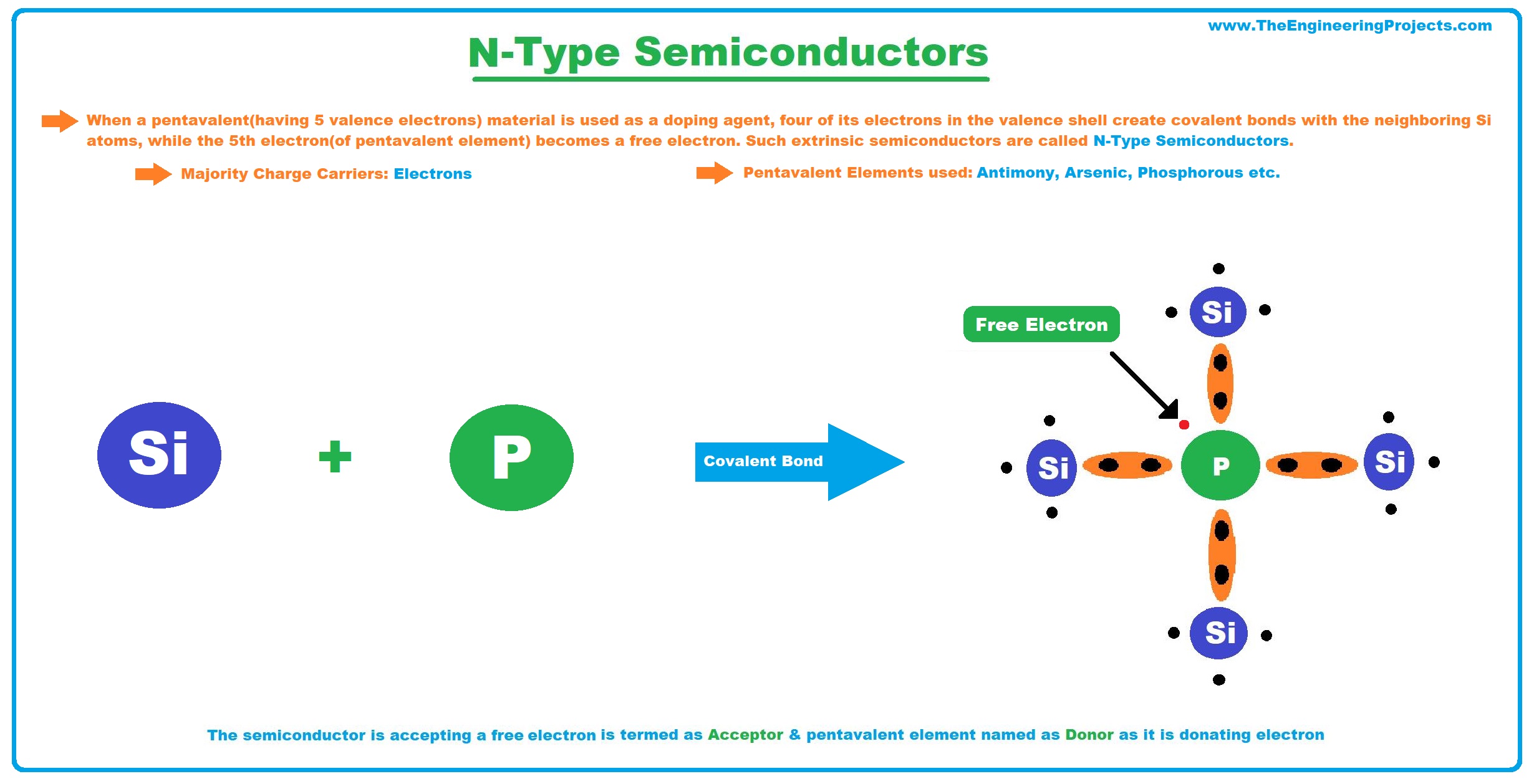 P-Type Semiconductors
When a semiconductor material is doped with a Trivalent(having 3 valence electrons) material,

three valence electrons

(of trivalent element) creates covalent bonds with the Si atoms nearby but it couldn't provide the 4th electron and thus creates a hole(positively charged), which is actually a vacancy & waits for an electron to join. Such doped semiconductors are called P-Type Semiconductors.
In P-Type Semiconductors, the majority charge carriers are holes(positively charged).
Examples of Trivalent Elements used in the doping process are

Boron, Gallium, Aluminium, Indium etc.

The trivalent element is Acceptor here, while the semiconductor is Donor.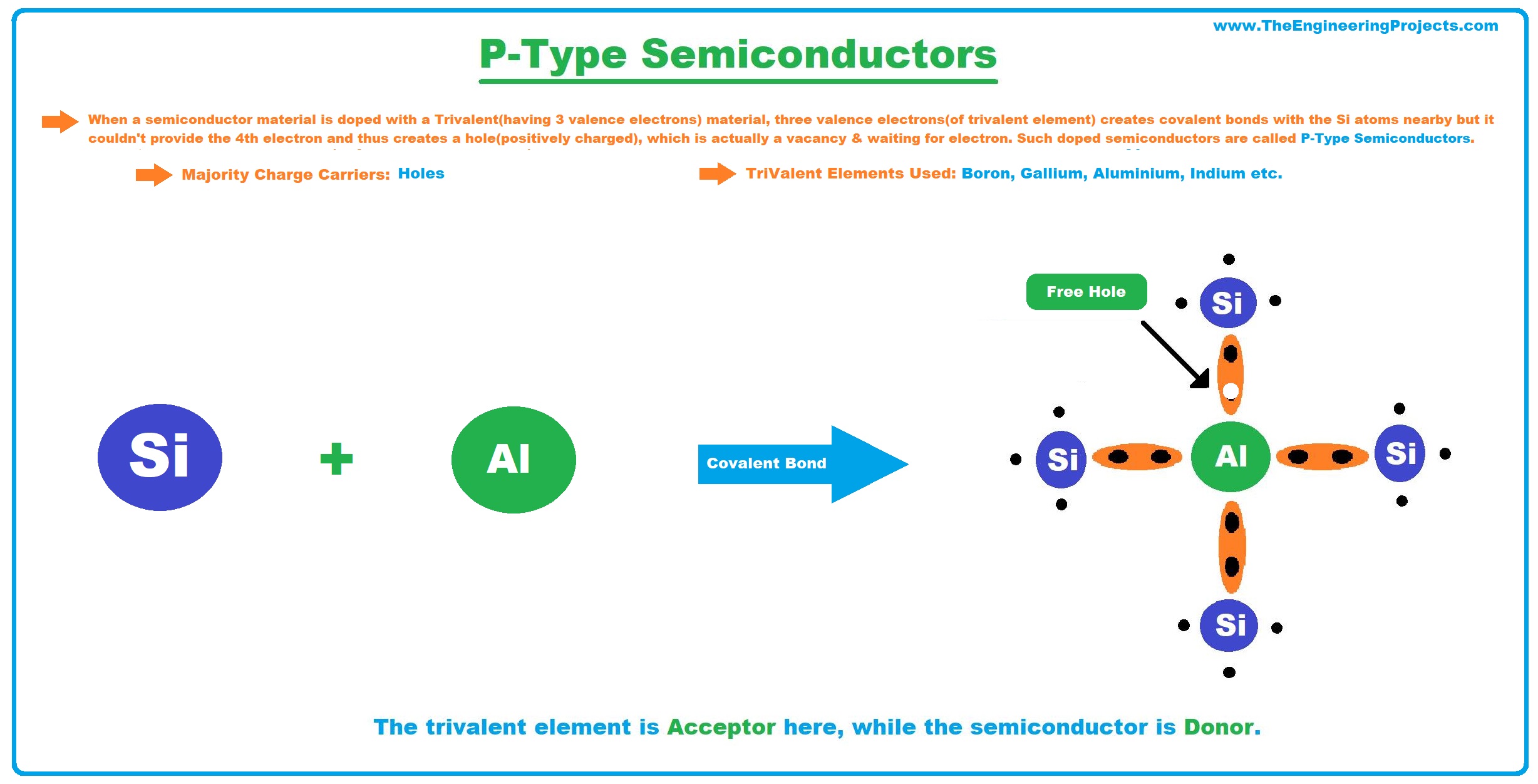 Doping of Semiconductors
As we have discussed earlier, a semiconductor in its pure form acts as an insulator as it has an equal number of electrons and holes in its outermost shell(called the valence shell).
So, in order to generate conductive properties in semiconductors, a strictly controlled quantity of impurity(i.e. arsenic, boron etc.) is added to it and this method is called Doping.
The intensity of conductive behavior depends on the type & quantity of impurity added.

Two types

of impurity elements are normally used, which are:

Pentavalent: Creates N-Type Semiconductors.
Trivalent: Creates P-Type Semiconductors.
PN Junction in Semiconductors
If a semiconductor material is doped with

both trivalent & pentavalent impurities

, then both

P-Type & N-Type regions

are created in a single substance.
As a result, a special barrier is created at the boundary of these two regions, which stops the flow of charge carriers and is called the PN Junction.
This PN Junction formulated the basis of the first semiconductor component called Diode.
Different variations of PN junction resulted in the creation of other basic components

i.e. transistor, FET, MOSFET etc.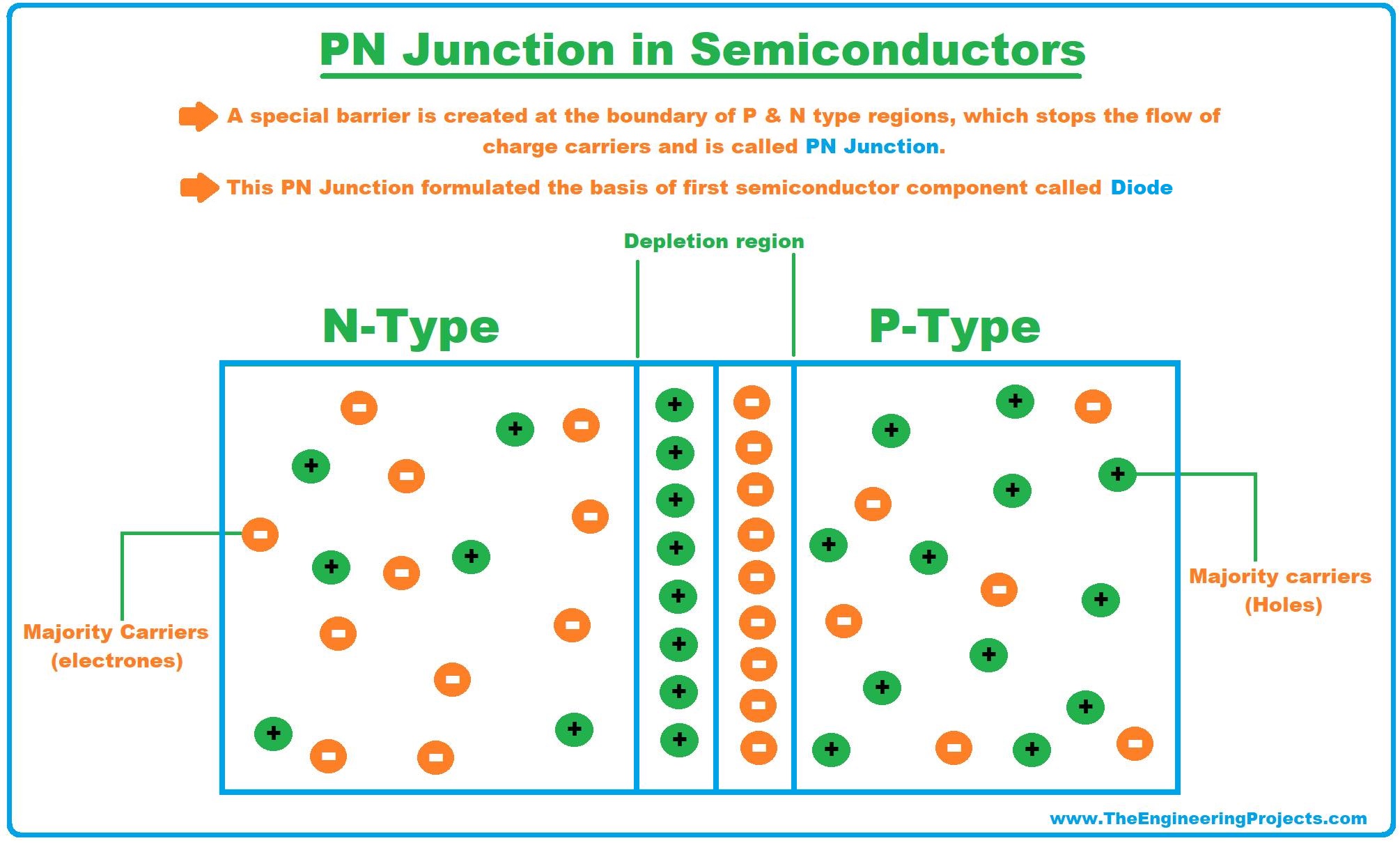 Now, let's have a look at a few examples of Semiconductor materials:
Semiconductor Materials
There are numerous Semiconductor materials available, a few of them are as follows:
1. Group IV of Periodic Table
In modern IUPAC notation, it's termed as

Group 14 of the Periodic Table

while in semiconductor circle, it's still considered as

Group IV

.

Group IV elements

are the most commonly used semiconductors but few elements of this group have large band gaps and thus act as insulators.
Semiconductors present in this group are Carbon, Silicon, Germanium, tin.
2. Compound Semiconductors
Compound Semiconductors are designed by the chemical combination of two different elements.
Compound semiconductors are normally designed by using elements from Group III & V of the periodic table.
Few examples of compound semiconductors are

Gallium Arsenide, Silicon Carbide etc.
3. Organic Semiconductors
Organic semiconductors

contain polymer structures normally composed of

carbon or hydrogen

.
The first organic semiconductor discovered was Bechgaard salt (TMTSF)2PF6 in 1980.
4. Liquid/Amorphous Semiconductors
Normally semiconductors are available in solid-state but few liquid/amorphous semiconductors are also discovered i.e.

hydrogenated amorphous silicon

.
Few oxide and alloys also depict semiconductor behavior.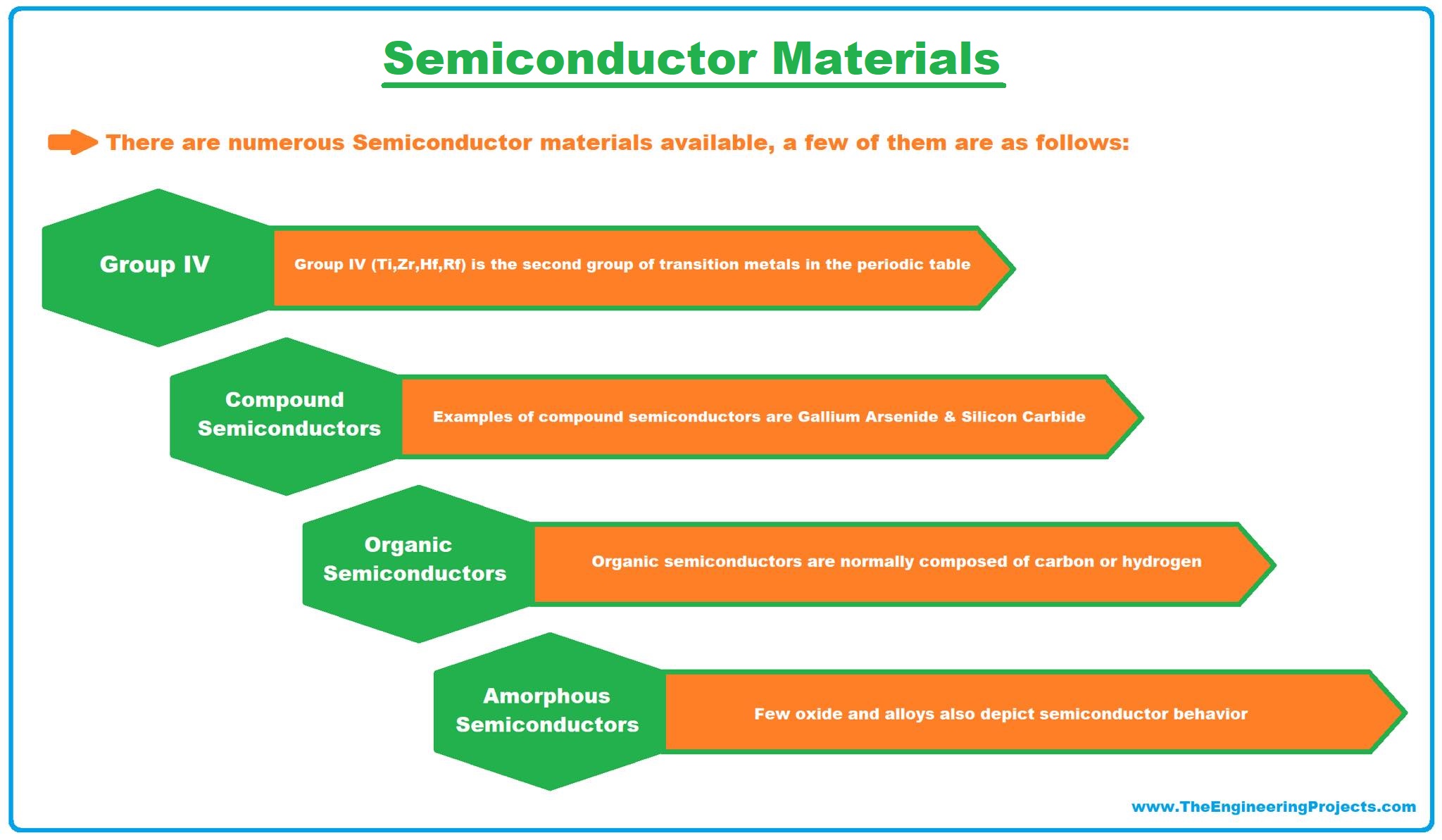 Applications of Semiconductor Materials
In today's world, electronics(especially embedded) will simply die if we remove semiconductor components from it. The semiconductor has its applications in almost every sector of electronics. Let's have a look at the few applications of Semiconductors:
1. Consumer Goods(Electronics)
We can't think of a world without Electronic devices(i.e.

mobile phones, laptops, microwaves, refrigerators etc.

).
All these appliances are using semiconductor components(i.e.

diode, transistor, MOSFET, integrated chip etc.

) in their electronic control units.
2. Embedded Systems
Microcontrollers/Microprocessors

have revolutionized the world and are considered as the base of

Embedded Systems

.
These embedded controllers have nano transistors(semiconductor component) embedded in them,

acting as smart switches

.
So, semiconductors play an important role in embedded systems as well.
3. Thermal Conductivity
As few semiconductors have high thermal conductivity and are thus used as a cooling agent in thermoelectric applications.
4. Light Emitting Diode
Instead of heat, few semiconductors also produce light and are thus used in

LEDs, OLEDs etc.

These semiconductors are normally available in liquid or amorphous form and are used as a

thin coated film

.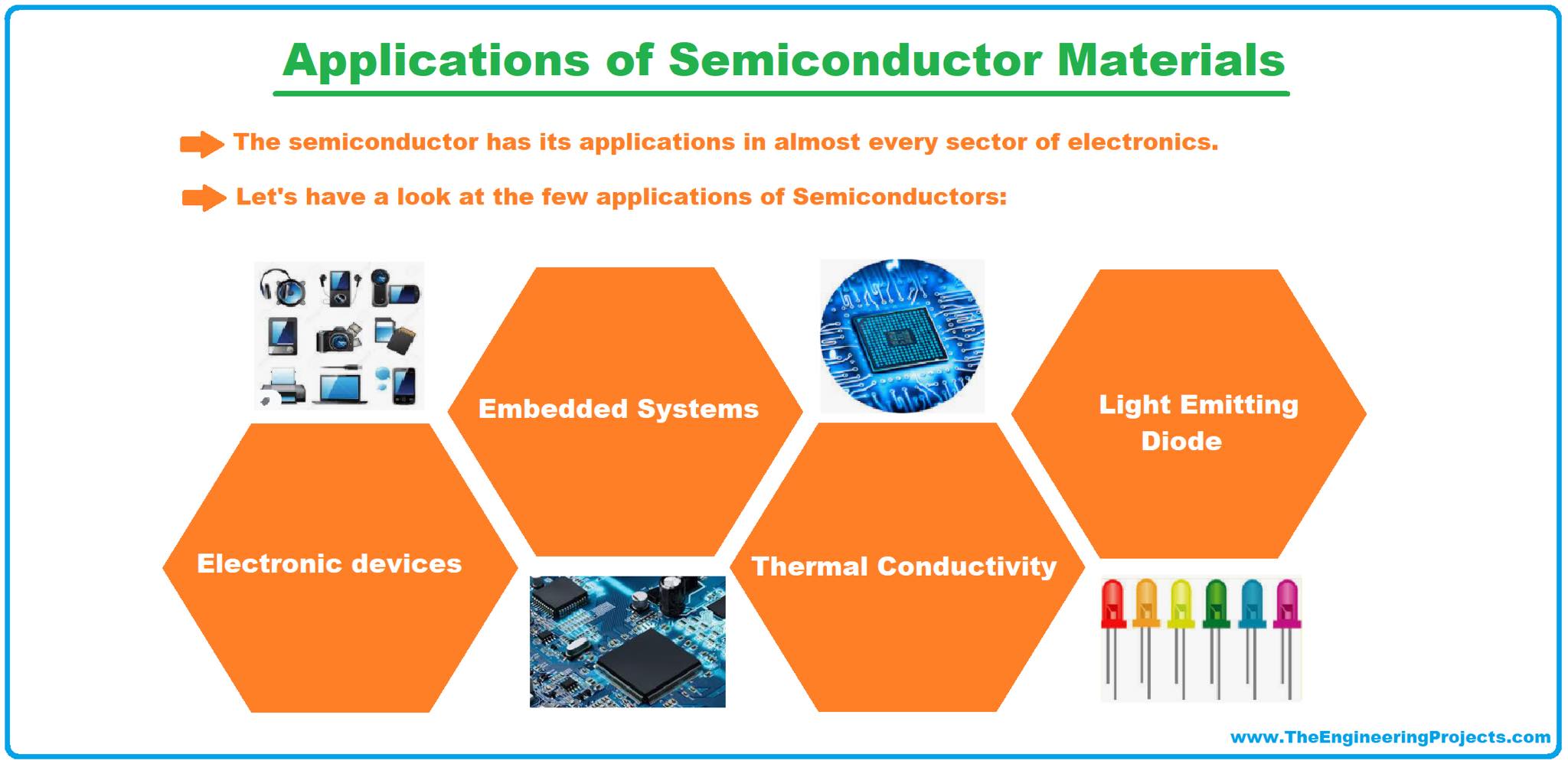 That's all for today. I hope you find this article helpful. If you have any questions you can approach me in the section below. I'd love to help you the best way I can. You are most welcome to pop your suggestions in the comment section below, they help us create quality content. Thanks for reading this post. :)