Hi Guys! I welcome you on board. Happy to see you around. In this post today, I'll walk you through the Introduction to 1n4004.The 1n4004 is a
diode
that allows the current to flow in one direction only. It blocks the flow of current in the opposite direction. It comes with two terminals called anode and cathode and current always flows from the anode terminal to the cathode terminal. This device comes with a reverse peak voltage of around 400V and it can support loads under 1A.I'd recommend reading the
Introduction to 1n4007
that I've uploaded previously. This
diode
is almost similar to the device 1n4004 that I'm going to stretch in this post.I suggest you buckle up as I'll discuss the complete introduction to 1n4004 covering datasheet, pinout, features, equivalents, and applications.Let's jump right in.
Introduction to 1N4004
The 1n4004 is a diode device that allows the current flow in one direction only. There are terminals on this device that are mainly used for the external connection with the electrical circuits.
The grey colored band on one side represents the cathode terminal. Current always flows from the anode pin to the cathode pin.
The 1n4004 is available with a high current capability and low forward drop voltage.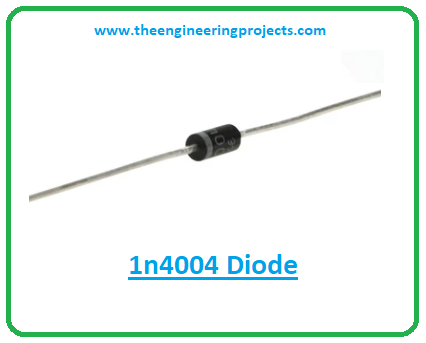 Used in current flow regulators, 1n4004 comes in the DO-41 package. And it is a rectifier diode that carries a PN junction. This rectification capability of the device is mainly used to convert AC current to DC current.
It is employed in general purpose rectification applications and is electrically compatible with other rectifier diodes.
1N4004 Datasheet
Before applying this device to your electrical project, it's better to scan through the datasheet of the component that details the main characteristics of the component. Click the link below and download the datasheet of 1n4004.
1N4004 Pinout
The following figure shows the pinout diagram of 1n4004.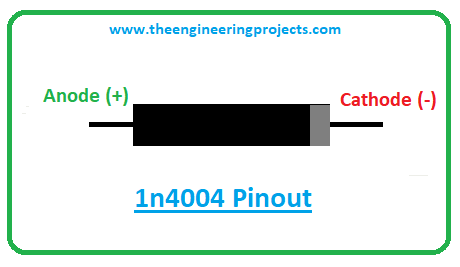 The 1n4004 is a two-terminal device. These terminals are called anode and cathode which carry opposite charges on them. The anode pin is positive while the cathode terminal is negative. The current enters the diode from the anode positive pin and it leaves the diode from the cathode negative pin.
The following diagram shows the electrical symbol of 1n4004 where a triangle with a line on one end indicates the presence of a cathode terminal.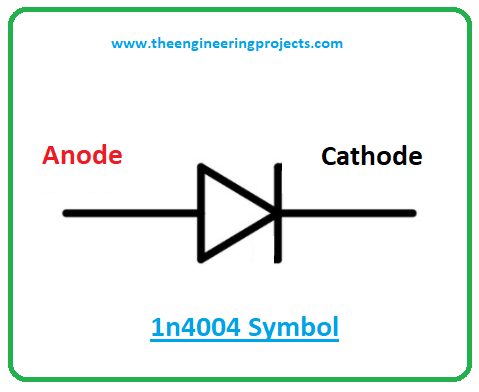 And current flows from the anode terminal to the cathode terminal.
1N4004 Features
The features of any device basically demonstrate the specialty of the device based on which this device stands out of the other rectifiers
diodes
available in the market. The following are the main features of the device 1n4004.
Non-repetitive Peak  current = 30A
RMS reverse voltage = 280V
Low forward drop voltage
Comes with high current capability
Low reverse leakage current = 5uA.
Comes in DO-41 Package
Average forward current = 1A
Peak repetitive reverse voltage = 400V
1N4004 Applications
Incorporated as a protection device
Used in Half Wave and Full Wave rectifiers
Used in Current flow regulators
Employed to prevent reverse polarity problem
That's all for today. I hope you've enjoyed reading this article. If you're unsure or have any questions you can pop your comment in the section below. I'd love to help you the best way I can. Feel free to share your valuable suggestions and feedback around the content we share so we keep sharing quality content customized to your exact requirements. Thank you for reading the article.
Leave a Reply