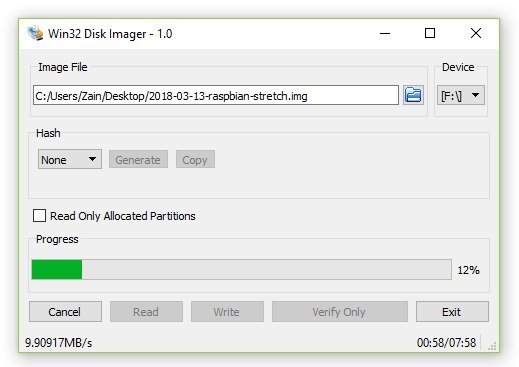 Hello friends, I hope you all are doing great. In today's tutorial, we are gonna have a look at How to Install Raspbian on SD Card for Raspberry Pi 3. Today, I am going to start this new tutorial series on Raspberry Pi 3. In this series, we will first cover the basic tutorials for beginners and in the second phase, we will interface raspberry Pi 3 with different sensors and modules etc. In the third phase, we will involve cloud computing and will upload different data over to web server. I will take it step by step from basics to pro. I hope you will enjoy it. You should first have a look at Introduction to Raspberry Pi 3, where I have discussed the basic overview of this board, along with what it is capable of doing. Consider it a zero tutorial of raspberry Pi series. So, now its time to get this beast ready for the coming battles. ;) Raspberry Pi is like a mini computer and the SD card acts as a hard drive for it. As we all know, we have to install some operating system like Windows or UBuntu etc. on our computers in order to operate them. Similarly, we have to install some operating system on our mini computer Raspberry Pi 3 and this operating system of Raspberry Pi 3 is called Raspbian. You should also have a look at this video tutorial for better understanding:
So, let's get started with How to Install Raspbian on SD Card for Raspberry Pi 3:
How to Install Raspbian on SD Card for Raspberry Pi 3
First of all you will need an SD card, officially they recommend to use minimum 8GB card but I would suggest you to have at least 16GB SD card.
You will also need SD Card Reader, which we will use to transfer our Rapbian OS from computer to SD Card.
So, now insert your SD Card into your SD Card reader and plug it with your laptop or computer via USB.
Some laptops have builtin SD card reader in them, so if you are lucky then you don't need to buy separate SD card reader.
First of all, we need to Format your SD card:
1. Formatting of SD Card
In order to Format the SD Card, you will need to download this great software SD Card Formatter.
It's a free tool and you can quite easily download it from their official site by click above link.
After download this software, install it on your computer and open it.
If everything goes fine then it will look something as shown in below figure: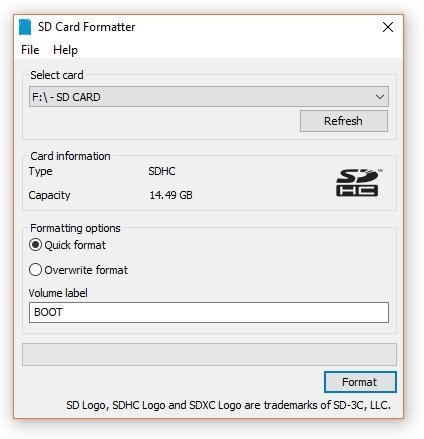 Select your SD Card drive at top and then click on the Format Button.
You can also change the name of your SD Card Drive, by default it changes the name to BOOT.
It will format your SD card and will give the end results as shown in below two figures: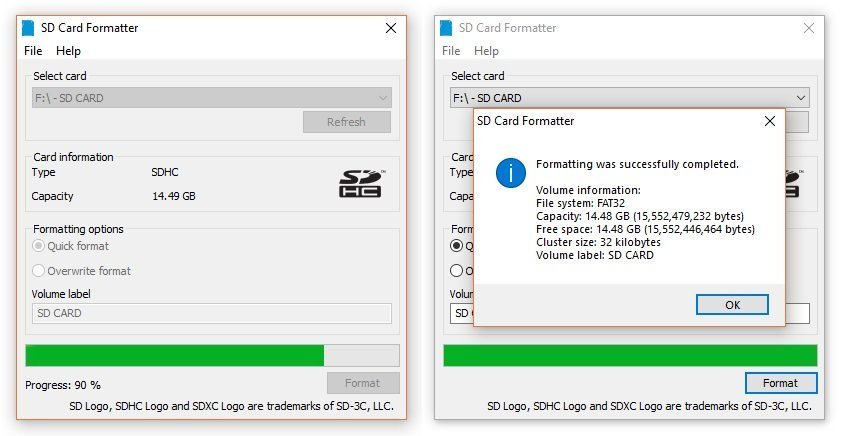 Click OK Button and close this SD Card Formatter as we have successfully formatted our SD Card.
Next thing we need to do is, we need to install Raspbian OS on our SD Card. So let's do it:
2. Raspbian Installation on SD Card
First of all, download Raspbian operating system, I would recommend you to download Raspbian Stretch with Desktop.
You can install any other OS as well but as a starter I think you should first get your hands on this one.
NOOBS is also available but its not as flexible as Raspbian so overall, I think Raspbian is best.
Once you have downloaded the Raspbian operating system then open the zip file and extract it on your desktop.
In this zip file, you will find only one img file, its an image file and we will install it now.
In order to install this img file on SD card, you have to download Win32 Disk Imager.
Install this simple tool and open it up, as shown in below figure: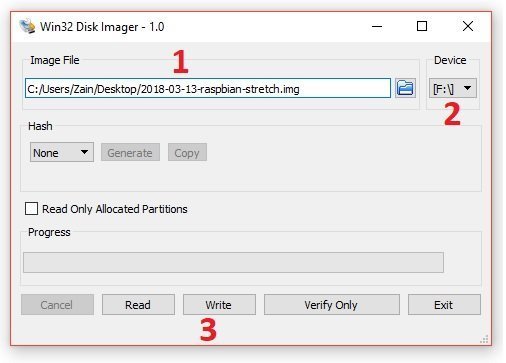 Now follow these simple 3 steps as labelled in above figure.
Browse to path of your Raspbian image file, which we have just extracted.
Select your SD Card drive in the Device section.
Finally click on the Write Button in order to install/write your Raspbian image file on your SD card.
Here's a screenshot of this process in progress: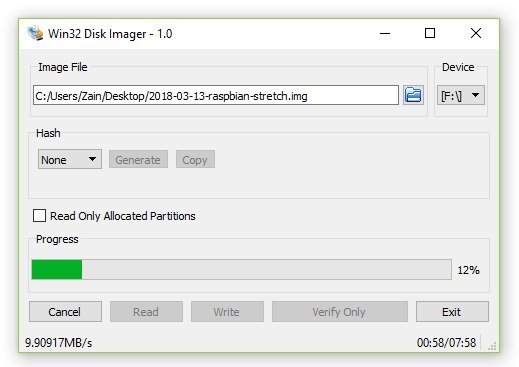 It will take some time to install Raspbian on SD Card as in my case its taking around 8 minutes.
If everything goes fine then you will get a success message at the end as shown in below figure: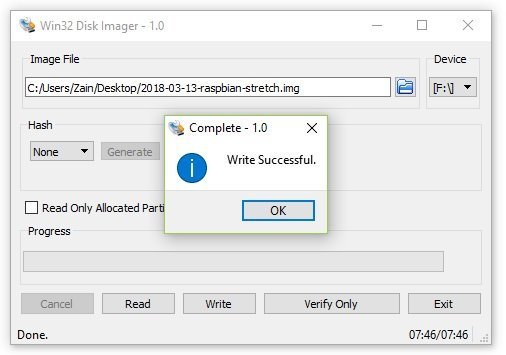 Simply click OK, close this Win32 Disk Imager software and remove your SD Card Reader.
You have successfully installed Raspbian on SD Card for Raspberry Pi 3.
In the next tutorial, I will setup How to Setup 7 inch LCD with Raspberry Pi 3 and will start our Raspbian OS for the first time.
That's all for today. I hope you guys have enjoyed today's tutorial. If you have any problem in Installation of Raspbian on SD Card for Raspberry Pi 3 then ask in comments or the Forum and our team will surely help you out. Thanks for reading, have fun. :)