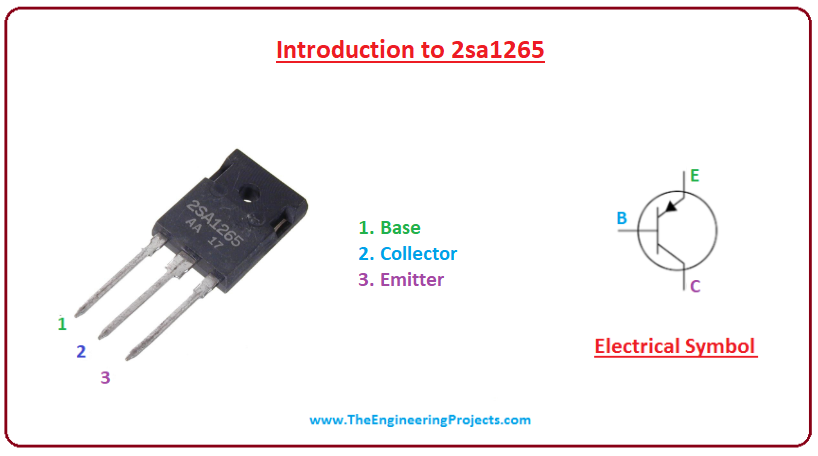 Hi Guys! Hope you are doing well. Welcome you onboard. Today, I'll unlock the detailed Introduction to 2sa1265 which is a PNP transistor mainly used for power amplifier applications and proves to be an ideal choice for 70W high fidelity audio frequency amplifier output stage applications. This PNP transistor falls under the category of Bipolar Junction Transistors where two charge carriers i.e. electrons and holes take part in the conduction process, however, holes are major charge carriers in the PNP transistors, unlike NPN transistors where electrons are the major charge carriers.
BJTs are different than that unipolar transistors like JFETs as former is the current controlled device and later is a voltage controlled device. Both are used in different areas ranging from consumer electronics, industrial to commercial applications.
In this post, I'll try to cover some basic details related to 2sa1265, its main features, pinout, working, and applications. Let's jump right in.
Introduction to 2sa1265
2sa1265 is a PNP transistor mainly used for power amplifier applications. It is composed of three layers: two P doped layers and one N-doped layer which is sandwiched between the other two layers.
This transistor contains three terminals known as an emitter, base, and collector. The base terminal is more negative than the rest of the terminals.
These terminals come in different size and doping concentration. The emitter terminal is highly doped and features 100% of the transistor current while the base terminal is lightly doped and controls the conduction inside the transistor. The collector terminal is moderately doped and is bigger in size than other terminals.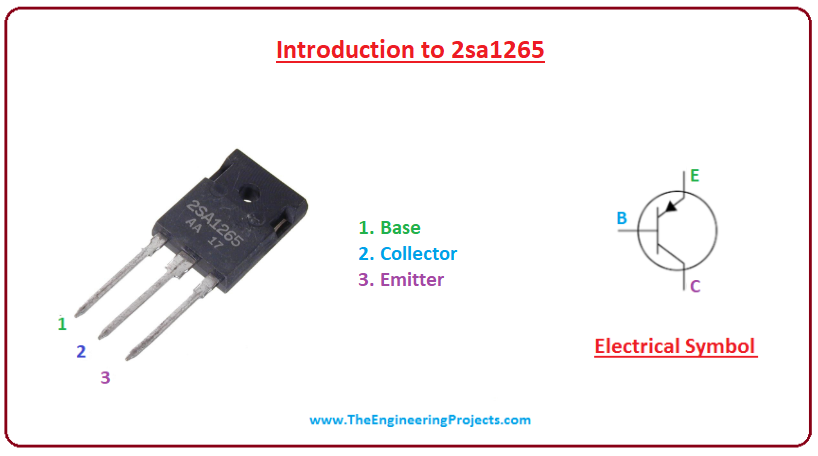 The PNP transistor won't be conducting if there is no supply voltage at the base terminal, however, when a voltage is applied at the base terminal it draws current which is then used to control large current at other terminals.
It is important to note that, both NPN and PNP are used for amplification purpose but voltage polarities and current directions are reversed in both transistors i.e. in NPN transistor current flows from collector to emitter and in PNP transistor current flows from emitter to collector.
The 2sa1265 PNP transistor comes with two PN junctions i.e. emitter-base junction and the collector-base junction where former is forward biased and later is reverse biased.
Under normal conditions, the PNP transistor comes with voltage drop out of 0.7 V, so the voltage at the base side must be 0.7 V less than the voltage at the emitter side for making emitter-base junction a forward biased.
2sa1265 Pinout
Following figure shows the pinout diagram of 2sa1265.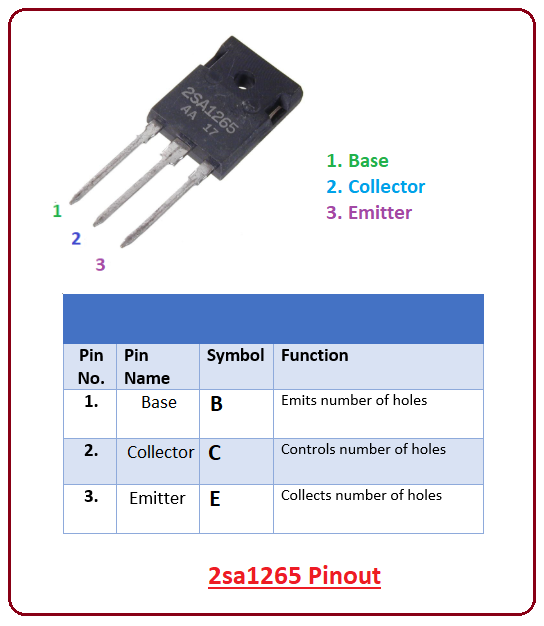 In the case of PNP transistor, emitter voltage is much larger than collector voltage which is necessary for the transistor to conduct.
The transistor turns on as a small current starts flowing from emitter to base terminal.
2sa1265 Circuit Diagram and Working
Following figure shows the circuit diagram of 2sa1265.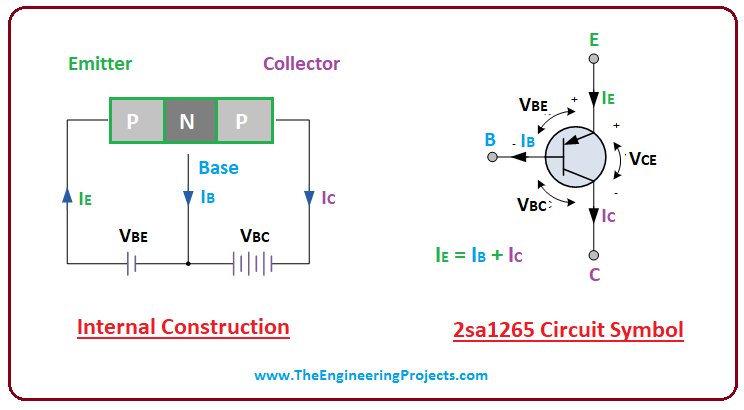 When a voltage is applied at the base terminal, the majority of holes move from the emitter and get diffused into the base terminal, combining with the electrons.
As the base is very thin and lightly doped it cannot hold the number of electrons for a maximum period of time, ultimately allowing the electrons flow from base to collector terminal.
In many amplification applications, NPN transistors are preferred over PNP transistors because conduction carried out by the movement of electrons is preferable over the conduction carried out by the movement of holes.
Combination of PNP transistor with NPN transistor is widely employed for the development of the power amplifier circuits. Power B amplifiers are a great example of this amplifier circuits where both PNP and NPN transistors are joined together to produce a high amplification cycle.
2sa1265 Absolute Maximum Ratings
Following figure shows the absolute maximum ratings of 2sa1265.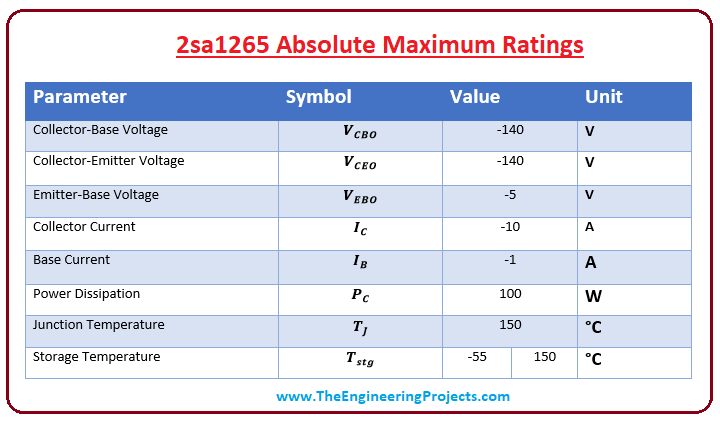 These are the stress ratings defined by the manufacturer. If you want the device to be running properly without any damage and undergoes a longer life, you must follow these operating conditions.
If these ratings are provided for the larger amount of time than the normal operating condition, they can affect the device reliability which may cause more damage in the later stage once your electronic project has been executed.
Applications
It is used in power amplifier applications.
An ideal choice for 70W high fidelity audio frequency amplifier output stage applications.
That's all for now. I hope I have given you everything you needed to know about 2sa1265. If you are unsure or have any question, you can ask me in the comment section below. I'd love to help you according to the best of my knowledge. Thanks for reading the article.