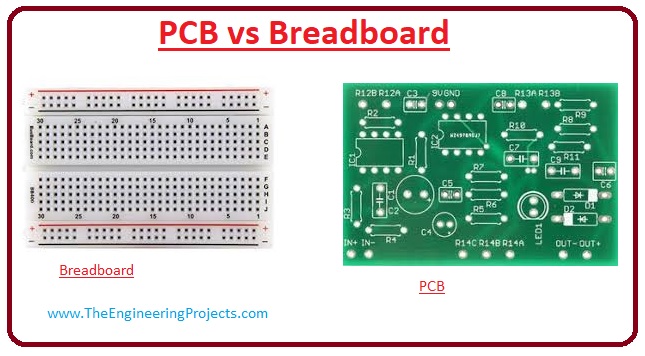 Hello friends, I hope you all are doing great. In today's tutorial, we will have a look at PCB vs Breadboard. For the production of electronic engineering projects and electric circuits, numerous circuit board are used but the most common are PCB (printed circuit board) and breadboard. In printed circuit board there are different conductive layers of copper are designed for the construction of different circuits. Base material that also named as a substrate is created with the epoxy resin or fibreglass. Copper layers are designed on this substrate material and symbols of different components are also drawn on this for so easily circuit can be constructed. While in breadboard arrangments like PCB are not exists, and no permanent circuit can be made on it. The main benefit of the breadboard is that it can also be used for other circuits. But in PCB it is difficult to make it reusable. The breadboard name is given to this board due to its bread-like structure. In today's post, we will have a look at PCB and breadboard with the detailed and compare their different parameters. So let's get started with PCB vs Breadboard.
PCB vs Breadboard
What is PCB?
PCB stands for printed circuit board this circuitry board is used in different electronic projects, devices like mobile, computer, etc.
This board has many types like single-sided PCB, double-sided PCB, multilayer PCB, according to requirements of project and circuits.
This circuitry board is manufactured with the fibreglass, a resultant module is known as a base on which different layers of copper are made to create circuits.
Different electronic components symbols like a capacitor, resistance, ICs, etc are designed on these conductive layers do make a connection.
The printed circuit board is used in different medical instruments like an X-ray machine, computed tomography, etc.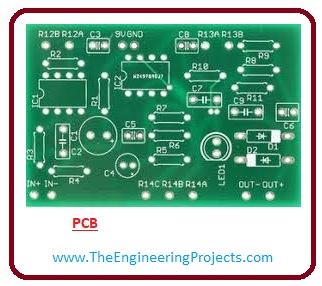 PCBWay
PCBWay provides less cost and high quality printed circuit board. The headquarter of this famous PCB manufacturer is located in China but its services available all over the world.

Its most important features that urge me to use the services of this PCB manufacturer are, it provides PCB prototyping, less volume production and PCBA all in one packaging.
Almost every technician, an engineering student, electrical and electronic industries using PCB board manufactured by this PCB producer. You can see in a given figure the PCB that I purchased from PCBWay.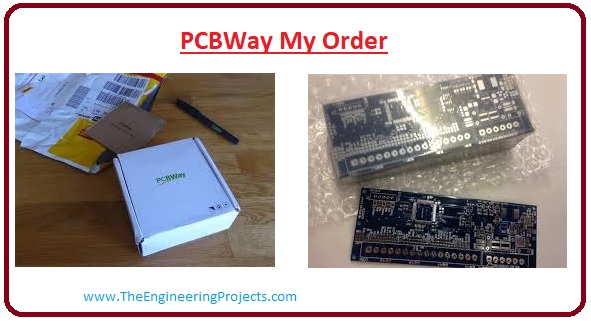 I am impressed with the quality of the boards, the delivery time and response to all my questions. Best price excellent service and speedy delivery. When I need another board I will certainly use this supplier.
PCBWay strives to be the easiest manufacturer for you to work with. PCBWay – PCB Prototype the Easy Way!
The main products manufactured by the PCBWay are HDMI, Server board, lift CPU Main control board, punch CPU, Industrial Motherboard, Lenovo, DSP board, GPRS Communication Products, wifi Module.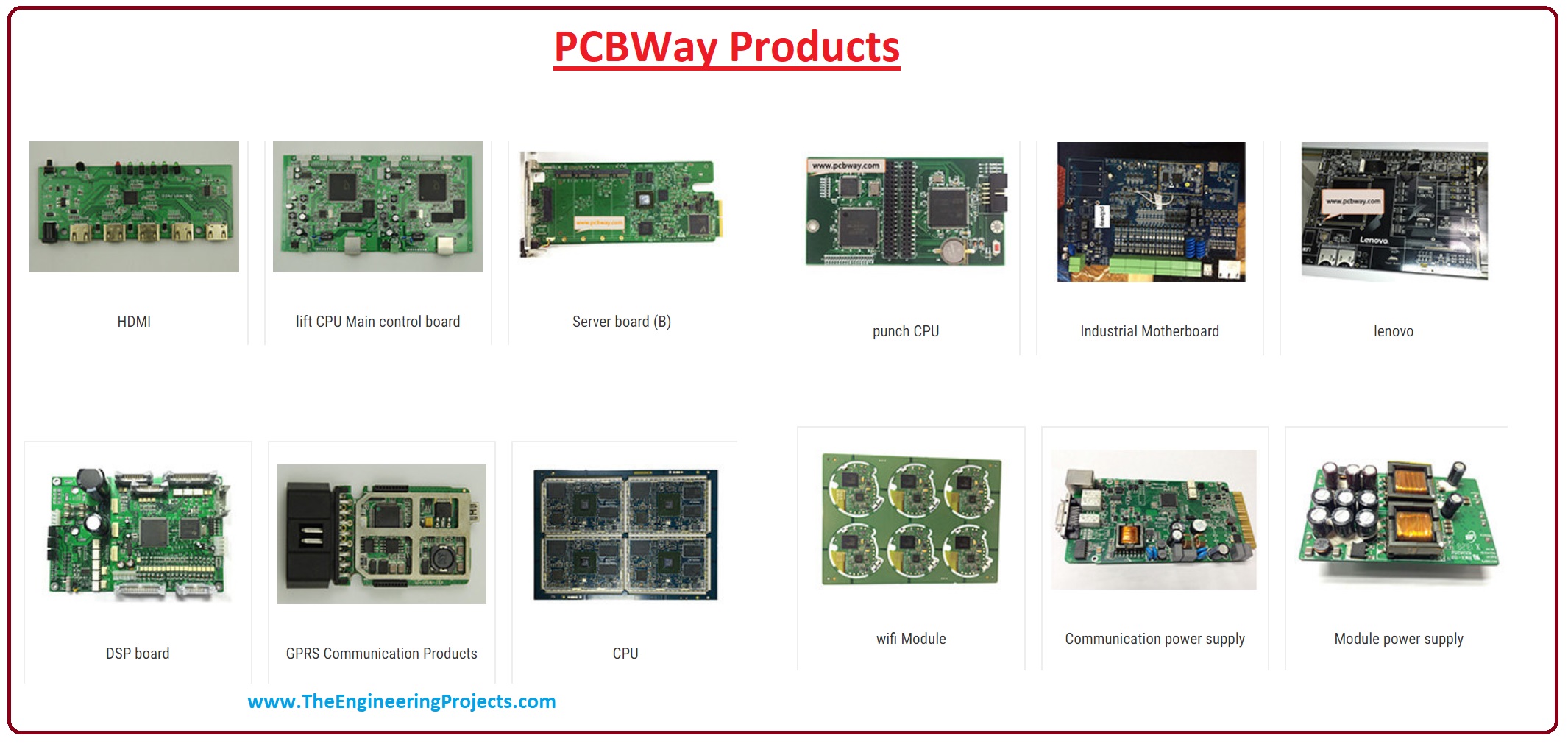 What is Breadboard?
The breadboard is such a circuitry board for which there is no need of solder device like a printed circuit board. That makes it effective for use more than on time.
In this board, there are numerous holes that are connected electrically with one another, components of circuitry are placed in these holes for circuit connections.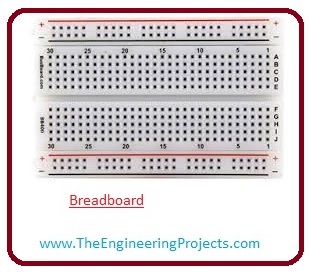 Breadboard Working
As we discussed earlier that we can use breadboard again and again for circuit creation. For circuit construction, we draw a sketch of that circuit and make connections of circuits according to designing.
There are two types of hole assembly at the surface of breadboard in centre two central layers of holes exits that have five holes in one column and at ends side, different holes are exits that used for input supply and power connection.
This board is best choice for such circuits that used integrated circuits, these ICs have a large number of pins so breadboard is the finest choice for them.
Advantages of Breadboard
These are some benefits of breadboard that make effective over the PCB.
Its main benefit is that if some connection is not according to circuit requirements than we can easily change it according to requirements.
The construction of different circuits is very easy as no fixed connection need for the layout of circuit.
After making one circuit we want to add or replace some components we can do it very easily.
 We can connect current meter for the for current measurement at any branch of circuitry, but in printed circuit board first, we need to remove a connection of circuitry than add resistance for calculation of current.
Advantages of PCB
These are some benefits of PCB over breadboard.
The circuit designed on this board for a long time and can be used in different electronic devices for circuit manufacturing.
In the printed circuit board large amount of current can pass as compared to breadboard, we can draw current paths for large current requirements.
We can also construct different points for exterior components linkage.
We can also connect heat absorber on this board to reduce the heating during circuit operation.
This circuit board is more common to use in different engineering projects breadboard.
Due to open wiring system on the breadboard, it looks complicated but conductive paths are designed on the PCB board so its circuit construction is very simple.
The connection on the board is very easy to understand on a printed circuit board while it not possible in a breadboard.
Should you use a PCB or a Breadboard?
Both of these board printed circuit board and breadboard has their own limitations and benefits that define where to use them. So let's discuss them one by one.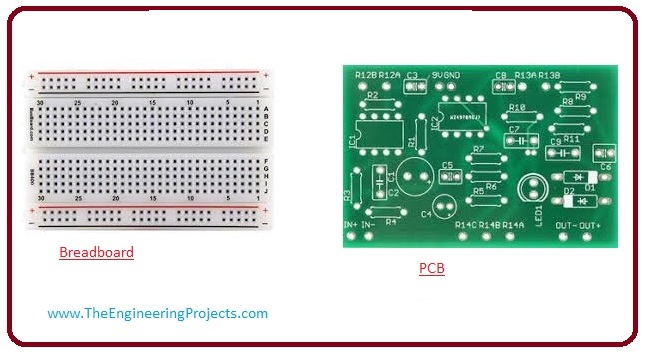 When to use a Breadboard?
The creation of circuits on this board is not permanent so it can be used for testing of different circuits before making them permanent.
These board can also be used for such circuits where less amount of current is required.
When to use a PCB?
 The printed circuit board is used in different circuits and electronic devices. After performing tests of different circuits on the breadboard we can design different projects on this board.
So it widely used in different electronic devices and instruments.
That is the detailed tutorial on PCB vs Breadboard, I have mentioned each and everything related to both of these board. Also, discuss these uses, advantage and disadvantage and disadvantage. If You have any question about these board ask in comment. Thanks for the next tutorial.