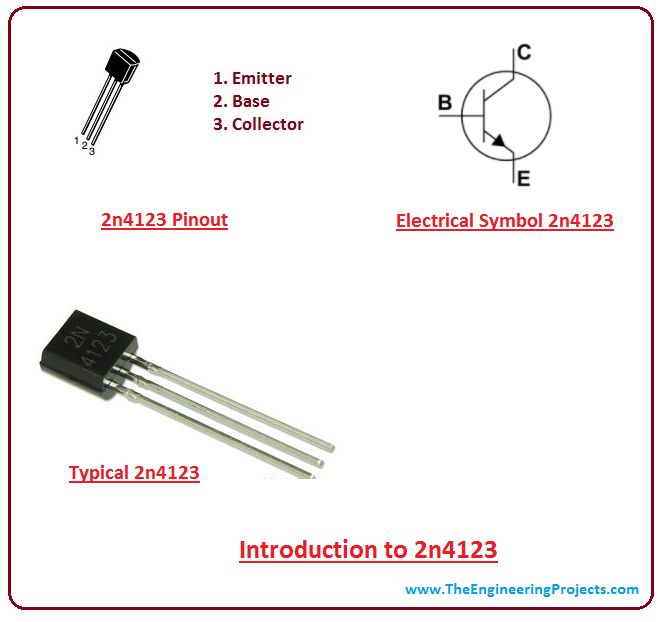 Hey Guys! I am back to give you a daily dose of information so you can excel and grow in your relevant field and keep coming back for what we have to offer. If you are a hobbyist or student, you require a transistor for the execution of your project every now and then. Today, I am going to unlock the details on the Introduction to 2n4123. It is an NPN (negative-positive-negative) general purpose transistor which is mainly used for the amplification and switching purpose where collector current around 100mA is required. It is a semiconductor device mainly composed of silicon and comes with three terminals where a voltage applied to the one pair of terminals is used to control the current at the other pair of terminals. I'll break down each and everything related to this transistor in easy steps so you can grab the main concept easily. Let's dive in.
Introduction to 2n4123
The 2n4123 is an NPN bipolar junction transistor mainly used for amplification and switching purpose, especially where collector current of 100mA is required.
This transistor comes with three terminals called emitter, base, and collector that are used for the external connection with the electronic circuits.
All these three terminals are different in terms of doping concentration. Emitter terminal is highly doped as compared to base and collector terminals.
The base terminal is lightly doped which controls the number of electrons. Collector terminal is moderately doped which collects the number of electrons from the base terminal.
Actually, NPN transistor is a combination of diodes joining back to back.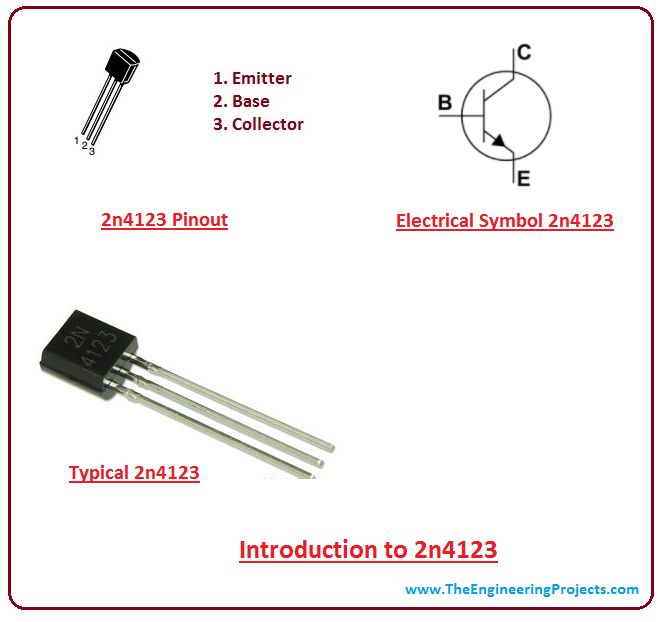 This NPN transistor is termed as a current controlled device which is different than JFET that is voltage controlled device.
One P-doped semiconductor layer is housed between the other two N-doped layers. The P-doped layer represents the base terminal while other two layers represent emitter and collector respectively.
When a voltage is applied at the base terminal, it draws small current which is then used to control large current at the emitter and collector terminals.
This process is used for amplification purpose where small current controls the large current.
An output current obtained at the collector terminal is highly dependent on the intensity of voltage applied at the base terminal.
This transistor operates in forward biased mode. If a transistor is not forward biased, collector current will be zero, no matter how much voltage is applied at the base terminal.
2n4123 Pinout
Following figure shows the pinout of this NPN transistor which mainly consists of three terminals. 1. Emitter 2. Base 3. Collector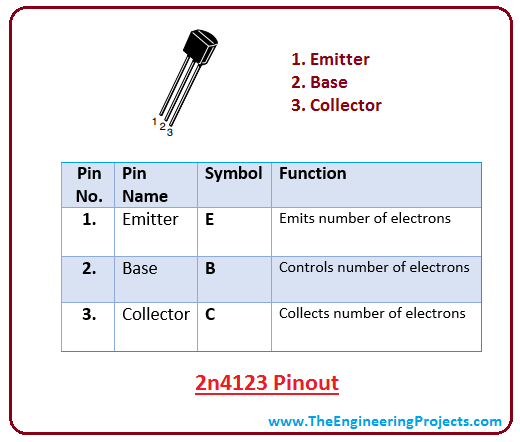 When a voltage is applied at the base terminal, it triggers the electron reaction, resulting in the diffusion of electrons from the base to collector terminal.
This movement of electrons is highly dependent on the voltage applied at the base terminal.
The number of electrons diffused into the base terminal from the emitter is greater than the number of holes diffused into the emitter region.
When the electron enters the base terminal it combines with the hole inside the base terminal where resulting pair disappears.
The base terminal cannot control all electrons diffused into it from the emitter terminal, resulting in the transfer of electrons from the base to collector terminal.
Circuit Diagram of 2n4123
Following figure shows the circuit diagram of the 2n4123.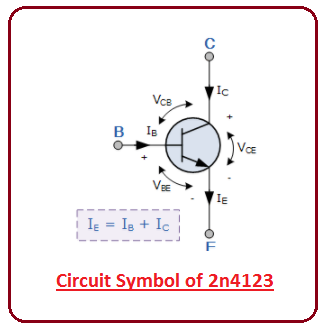 Current at the emitter terminal is equal to the sum of base and collector current because doping concentration of emitter is more than other terminals.
The base is more positive with respect to the emitter which makes it an ideal choice for controlling the number of electrons.
There are two current gain factors that are mostly used to determine the characteristics of the transistor. One is common-emitter current gain which is a ratio between collector current and base current. This is called Beta and denoted by ß.
Its value ranges between 20 to 1000, however, the standard value is taken as 200.
Beta is a ratio between two currents so it exhibits no unit. It is also known as amplification factor and determines the amount of current being amplified.
Another current gain is common-base current gain which is a ratio between collector current and emitter current. It is called alpha and denoted by a. Alpha value ranges between 0.95 to 0.99, however, most of the time its value is taken as unity.
It is important to note that if we interchange emitter and collector, then the transistor will become reverse biased and these current gains show low value as compared to values taken from forward biased transistor.
In this NPN transistor, electrons are main charge carriers, which is different than PNP transistor where holes are major charge carriers.
Absolute Maximum Ratings of 2n4123
Following figure shows the absolute maximum ratings of this transistor.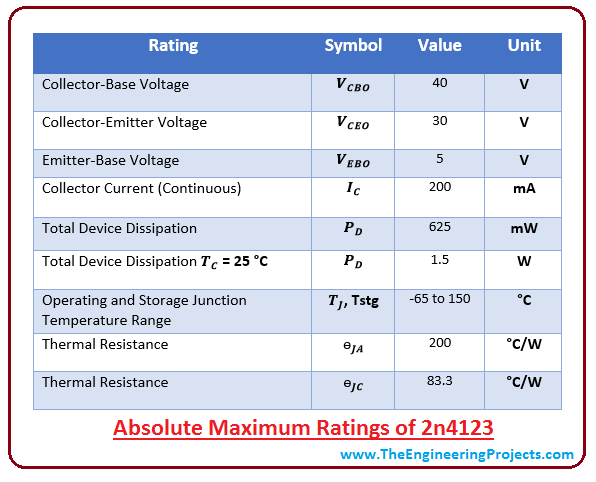 These are the stress ratings that must be controlled before you place this component in the electronic circuit.
If these stress ratings are exceeded from the absolute maximum ratings, they can damage the device at large, which ultimately affect the performance of the project.
Similarly, if these stress ratings are applied for a maximum period of time above normal operating conditions, they can affect the device reliability.
These ratings are determined on the basis of the maximum junction temperature of 150 °C.
Applications
This NPN transistor is mainly used for general purpose amplification.
Switching applications involve this NPN transistor where collector current around 100mA is required.
That's all for today. I hope you have found this article useful. If you are unsure or have any question, you can ask me in the comment section below. I'd love to help you in any way I can. Keep your suggestions coming. Your valuable suggestions and feedback keep us busy providing you quality work that resonates with your field of interest. Thanks for reading the article.