Hi Friends! We welcome you on board. Electronic industry is already filled with a number of devices and components that help ease the daily life of a common man. However, there is always much room for innovation in the electronics industry when it comes to facilitating the customers. When there comes a requirement for switching and amplification, there is a need for
transistors
. Today, I am going to unlock the details on the
Introduction to TIP120
. This is an
NPN
Darlington
transistor
which is mainly used for general purpose amplification and medium power switching applications.It comes with a
Darlington pair
in which two
transistors
are connected in such a way, the current amplified by the one
transistor
is being amplified further by the other transistor.This configuration features much higher current gain as compared to if each transistor is taken separately. Before we move on, you must have a look at
BJT (Bipolar Junction Transistor)
that I have updated recently. Let's get started.
Introduction to TIP120
TIP120 is an NPN Darlington transistor which is mainly used for general purpose amplification and medium power switching applications.
It mainly consists of an emitter, base, and collector which are the basic parts of any transistor. This is a bipolar power transistor where conduction is carried out by both charge carriers i.e. electrons and holes but main charge carriers are electrons as this an NPN transistor.
TIP120 comes with a Darlington pair in which two transistors are connected in such a way, the current amplified by the one transistor is being amplified further by the other transistor. This configuration features much higher current gain as compared to if each transistor is taken separately.
In this NPN Darlington configuration, the emitter of the first transistor is connected to the base of the second transistor which allows the current amplify.
Transistors are electronic switches that fulfill the power requirement of the project. When normal transistors are not enough to meet the power requirement of the projects, we replace normal transistors with Darlington transistor that are same as regular transistors with some exceptions i.e they are capable of driving a much larger load.
When a voltage is applied at the base side, it gets biased and draws small current which is used to control large current at the collector and emitter side.
This transistor comes with a DC current gain of 1000 and can switch up to 60 V with a peak current of 8A.
This device is developed using planar technology and incorporated into a monolithic Darlington configuration. It exhibits exceptional high gain performance and low saturation voltage.
It comes with a much higher current gain which means a small amount of current from a microcontroller or sensor can be used to drive a much large load.
This is an NPN transistor that comes with electrons as major charge carriers. While PNP transistor comes with holes as major charge carriers.
TIP120 Pinout
This transistor mainly comes with three terminals as follow
1. Base2. Collector3. Emitter
Movement of electrons plays an important role in defining the nature of conductivity of the transistor. In this transistor main charge carriers are electrons.
As it is an NPN transistor so the base is positive with respect to the emitter. And collector voltage is much larger than base voltage.
Circuit Diagram of TIP120 to Control Motor
Following figure shows the circuit diagram of TIP120 to control motor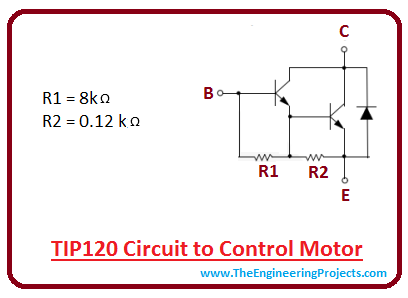 This is the circuit to control 5 V motor which draws 1 A of current.
TIP120 doesn't appear to be very efficient while controlling 5 V motor because it is not a regular transistor but a pair of transistors which are connected together to shape a single product which allows driving a larger load.
However, achieving high gain comes with some drawback and limitations as results in a higher voltage drop.
Higher current designs cause more heat that can melt the components involving in the project. In order to remain in a safer side, you can add a heatsink, that helps in the heat dissipation and prevents the circuits from catching fire.
This transistor is a current controlled device which is different than MOSFET that is voltage controlled device.
Absolute Maximum Ratings
Following figure shows the absolute maximum ratings of TIP120 Darlington transistor.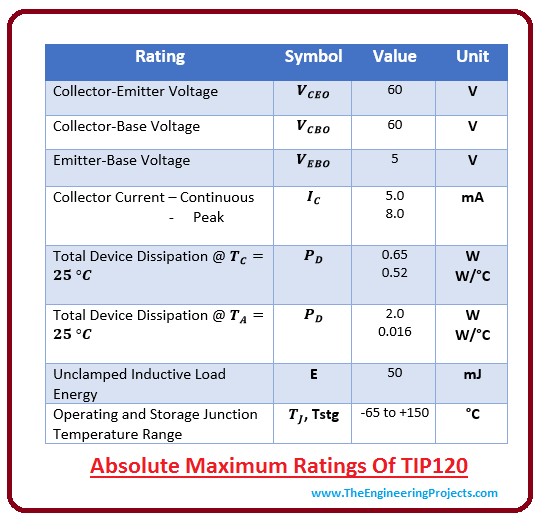 These are the stress ratings. In view of these stress ratings, you must keep few things into consideration.
These stress ratings must not exceed the absolute maximum ratings otherwise they can damage the device.
Similarly, if these stresses are applied for a maximum period of time, they can affect the device reliability.
Applications
This transistor is mainly used for general purpose amplification.
Medium power switching applications make use of this transistor because it exhibits more power than a regular transistor.
Darlington transistors are used in high current circuits, especially in computer control of motor applications where current is being amplified from the computer to the level required for the connected device.
That's all for today. I hope you have enjoyed the article. However, if you feel skeptical or have any question you can approach me in the comment section below. I'd love to help you according to best of my expertise. Keep us updated with your feedback and suggestions, they allow us to give you quality work that resonates with your needs and expectations and helps you keep coming back for what we have to offer. Thanks for reading the article. Stay Blessed!
Leave a Reply