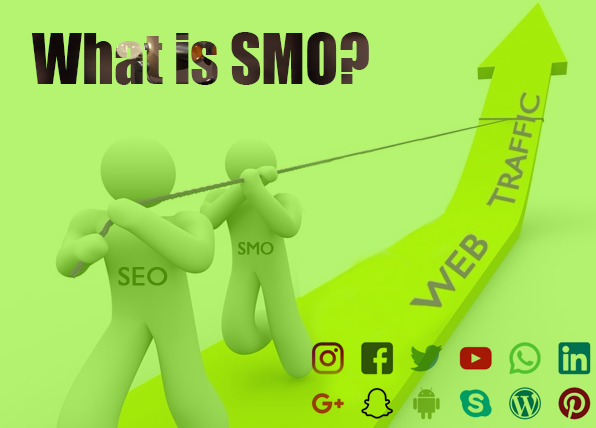 Hi Friends! I am back to give you a daily dose of valuable information, so you can excel and grow in your relevant field. Today, I am going to uncover the details on What is SMO and What is the Relation between SMO and SEO?
This is the twelveth article of complete SEO series. You can check my previous article on Influencer Outreach where I have highlighted the ways to do it effectively.
We cannot overlook the importance of SEO throughout the blogging journey. If you really want to grow and escalate your online presence in the early stages of your business, you must pay special heed to the SEO strategies that play an important role to put your blog on the top of search results.
Before we move forward and define the role of SMO in SEO, we must we aware what is SMO? SMO stands for Social Media Optimization. It is a list of techniques and strategies used for increasing your blog or product awareness through social media platforms like facebook, twitter, LinkedIn. This also includes the bookmarking sites like Reddit and stumble upon and blogs that fall into your niche.
While looking for SEO and SMO, some people are concerned which is more important? Or SMO does really matter to help boost your ranking in search engines?
It's true that SMO doesn't directly affect the SEO and help your content appear on the top of search results, but it really helps your business gets more exposure and visibility to the targeted audience. However, apart from that, if you closely look to the businesses who do good in search engines, you will get to know they have strong social signals pointing to their website.
Now, search engines give more value to the business who manage both SEO and SMO instead of the ones who only take care of SEO.
SMO falls under the Off-Page SEO which is essential to appear your blog or business on the top of search results. There are many factors affecting your social media profile.
How you curate and organize your social media profile plays an important role in the visibility of your business to the targeted audience.
You can check the complete guide of SEO tutorials where I have combined all articles related to On Page and Off Page SEO.
What is SMO?
SMO is defined as a process used for increasing online awareness of your content or product through social media platforms like Facebook, Twitter, Linkedin, Instagram. It includes how your content and business is curated, organized and managed through social media platforms.
You'd be doing injustice to the overall health of your business if you are paying attention to SEO only, all the while ignoring the importance of social media.
There are three ways your content appears online
Your content appears on the top of search results
You are recommended by other websites your audience visits
You get a presence on the social media platforms
All three ways fall under inbound marketing where you use techniques to approach the relevant audience.
Optimizing your content for SMO plays an important role to make Google think your content is worthy and brings value to the customers.
The invention of social media has changed, if not entirely, the concept of search engines. No doubt, search engines have their own importance in bringing traffic to your site, but we cannot undermine the importance of SMO.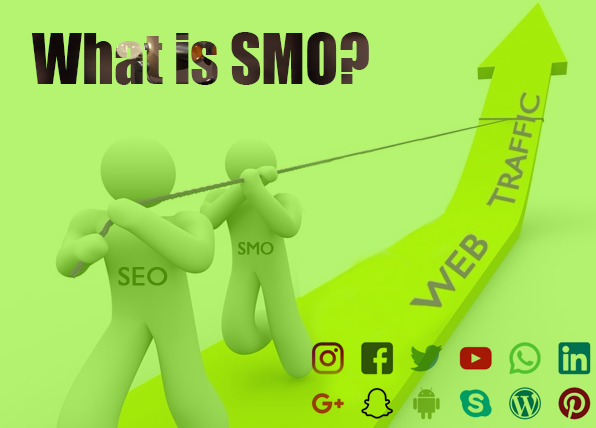 Some people who don't bother to look for their desired product through search engines' search, find it useful to look for the product on social media because it gives more flexibility and helps them make a final decision.
More social shares on social media is a hint that the product is worthy which is recommended by the relevant visitor that exhibits the same interest as yours. SMO helps in
More Leads
High traffic
Business explore
Better SEO
Now, search engines' algorithms and criteria to look for relevant and best content have been changed. Apart from better SEO, you must give equal importance to SMO.
Search engines give more importance to the content that is well-distributed and shared on social platforms.
Most of the businesses overlook the importance of SMO, and they work and give importance to SEO only which is not beneficial in the long run.
How SMO Works and Relates with SEO
Optimization is defined as steps and actions that are taken to streamline a strategy for using the situation and resource effectively.
Social media optimization is not just creating and building a social media profile on every platform that comes into play. Although, it is imperative to create the social media profile in order to boost online presence, however, things start working when someone else shares or recommends your content or product on their social platforms.
Getting a backlink from your own profiles exhibits less value as compared to links from diverse social media platforms.
If you want your product is spread across the social media and your voice is heard, make sure to engage with the audience and help them provide a definite solution to their problems.
Take an active part in the discussions initiated by your visitors, so they can anticipate you value interactions and relationships more than getting financial goals.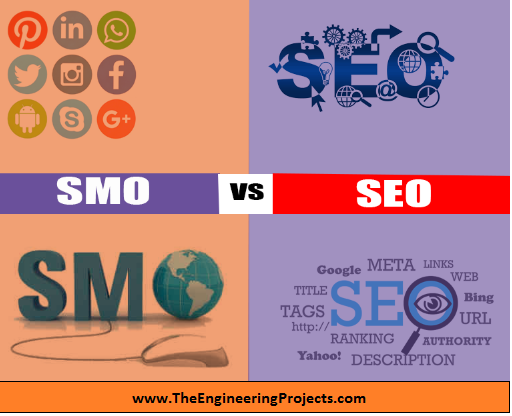 SMO and SEO work on the same principle i.e. to create awareness about the blog or product and generate more traffic, but there is a little difference between them.
SEO is a search engine optimization where you optimize your website keeping in the view of search engine protocols and SMO is a social media optimization where you optimize your website or product with the help of social media platforms.
How Google Considers Social Signals
Google looks each social signal like a regular HTML page, but does it help your content appear on the top of search results?
It doesn't directly help, if it did, it would be very easy for the marketer to manipulate the search engines and get top position in the search results. The quantity of social shares holds less value than the quality of social signals.
Google appreciates if your business is getting a number of social signals, but google gives more importance to the quality of social signals you get. If you Google catches you up, you are manipulating search engines by fake social signal recommendation, Google will instantly block your site or leave you with a warning.
Social media optimization and search engine optimization are closely related to each other. We wouldn't be exaggerating if we say, social media platforms act as a search engine for some people.
Your content is easily found on search engines when you take care of SEO that takes visitors close to the purchase of your services. This is where SMO comes into play.
When visitors come to your site with the intention of your product is widely spread and shared across the social media and recommended by the visitors of the same interest, they take no time making a final decision.
You can use our Social Share Counter SMO tool, especially designed by our experts, that helps you count the number of social shares of a certain webpage. This way you can analyze the content and develop a strategy that helps you increase the social shares.
Following things, you must be considering while you prepare your content for social media.
Quality Content
If you want your content is widely shared across the social media platform, make sure you have produced quality content that resonates with the requirements of your visitors.
Organize your content in such a way that you properly deal and touch the problems your targeted audience is facing.
This will force them to share your content so other people of same interest can get the advantage of your content.

Keyword Research
What is the importance of creating quality content if your content doesn't organize and develop around the keywords your audience is looking for?
Do your homework and explore the keywords audience types when they look for the specific product. This will help you get a clear idea of what your visitors are looking for.
There are many tools available to make your content prepare around certain keywords. You can start with free tools like Google Keyword Planner.
Add Social Media Buttons
Make sure to add social media buttons to the content or blog post your share, so your visitors find no difficulty sharing your content across the web in case they find something useful.
Also, the social media profiles you create must include the link back to your website. This will help the visitors come to your website in case they are in need of more information regarding the specific product.
Final Thought
SMO and SEO are closely related to each other. SEO helps your content appear on the top of search results, while SMO boosts your online presence by appearing your content in front of the targeted audience.
Google does give value to the content and business that come with lots of social shares.
It is like a grey area, we cannot completely admit that SMO helps your content appear on the top of search results, but it does help to increase your online presence that ultimately brings more visitors on your site.
Your business success depends on both SEO and SMO, you cannot ignore any of them to make your content appear before the relevant audience.
The practical way to boost your online presence through social media is to engage your customers, help them solve their problems and let them highlight the features and advantages of your product in their own words.
It takes a lot of hard work and planning before you are pretty nifty about organizing social media platforms, but, if it is done properly, no one can stop your brand accelerate and get a renowned position in the market.
That's all for today. I hope you have found this article useful. In the next post, we will cover Web 2.0 and how it is related to SEO.
In case you are feeling skeptical or have any question, you can ask me in the comment section below. I'd love to help you according to the best of my expertise. Feel free to keep us updated with your feedback and suggestions, they allow us to provide you quality work that resonates with your needs and demands. Thanks for reading the article.