Hello everyone, I hope you all are doing great. In today's video I am going to show you
How to add new Library in Proteus 8
software. As we all know that Proteus doesn't have all the components in its database so if you want to add new component in Proteus and want to use it in your simulation, then you have to add its library first.
On our blog, we have posted many New Proteus Libraries for Engineering Students and I hope you guys have enjoyed those libraries. But I was constantly getting this complaint from students that they are unable to add Proteus Library, especially in Proteus 8 software. So, that's why I thought of writing this tutorial, although it says Proteus 8 but I will also show you How to add it in Proteus 7. So, let's get started with How to add New Library in Proteus 8:
How to add new Library in Proteus 8
First of all, download any Proteus Library from our site, let's use this Vibration Sensor Library for Proteus.
When you will download it you will get a .rar file.
Open this .rar file and you will get three files in it, named as:

VibrationSensorTEP.LIB
VibrationSensorTEP.IDX
VibrationSensorTEP.HEX

These are the library files of this vibration sensor and you have to place these files in the Library folder of your Proteus software.
If you are using Windows 7, 8 or 10 then normally Proteus software is installed in the Program File (x86) folder, but it could be in Program File folder as well.
So, go to your C drive and then in both of these Program File folders, search for Labcenter Electronics.
This Labcenter Electronics folder is automatically generated by Proteus software.
If you have installed Proteus 7 or Proteus 8 or even both, then they will be present here. Here's a screenshot of my Labcenter Electronics folder: 😛

Once you are here, now if you want to add Library in Proteus 8 then click on Proteus 8 software, here's the screenshot: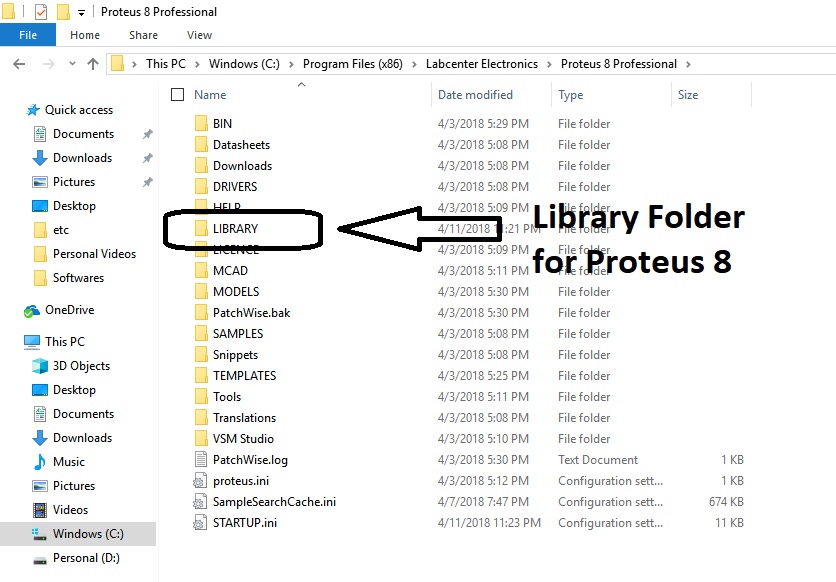 You can see Library folder in above image, so simple paste your Vibration Sensor Library files in this Library folder.
Here's the complete link of Proteus 8 Library folder: C:\Program Files (x86)\Labcenter Electronics\Proteus 8 Professional\LIBRARY
After adding these Library files, restart your Proteus software. You have to restart it otherwise it won't update its components' database.
Now in the components search box, type vibration sensor and you will get the results.
Similarly, if you want to add the Library in Proteus 7 then open your Proteus 7 Professional and you will find the Library folder in it as well. Here's the screenshot: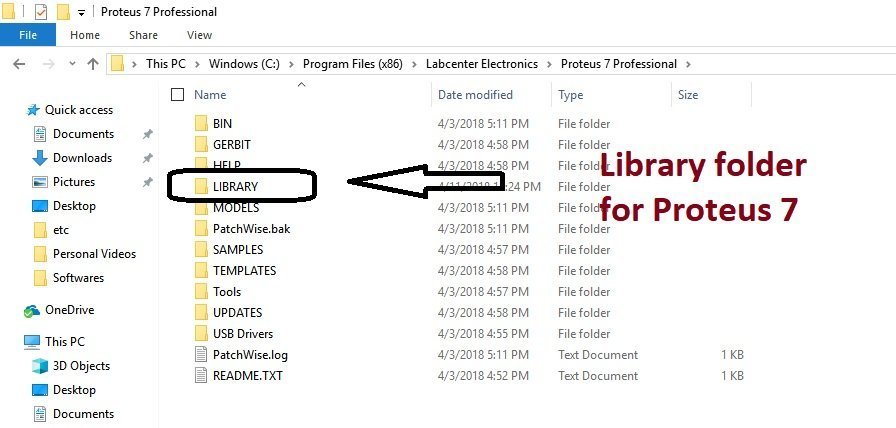 Here's the complete link of Proteus 7 Library folder: C:\Program Files (x86)\Labcenter Electronics\Proteus 7 Professional\LIBRARY
Let's open this Library folder and have a look at our Vibration Sensor Library files. Here's the screenshot: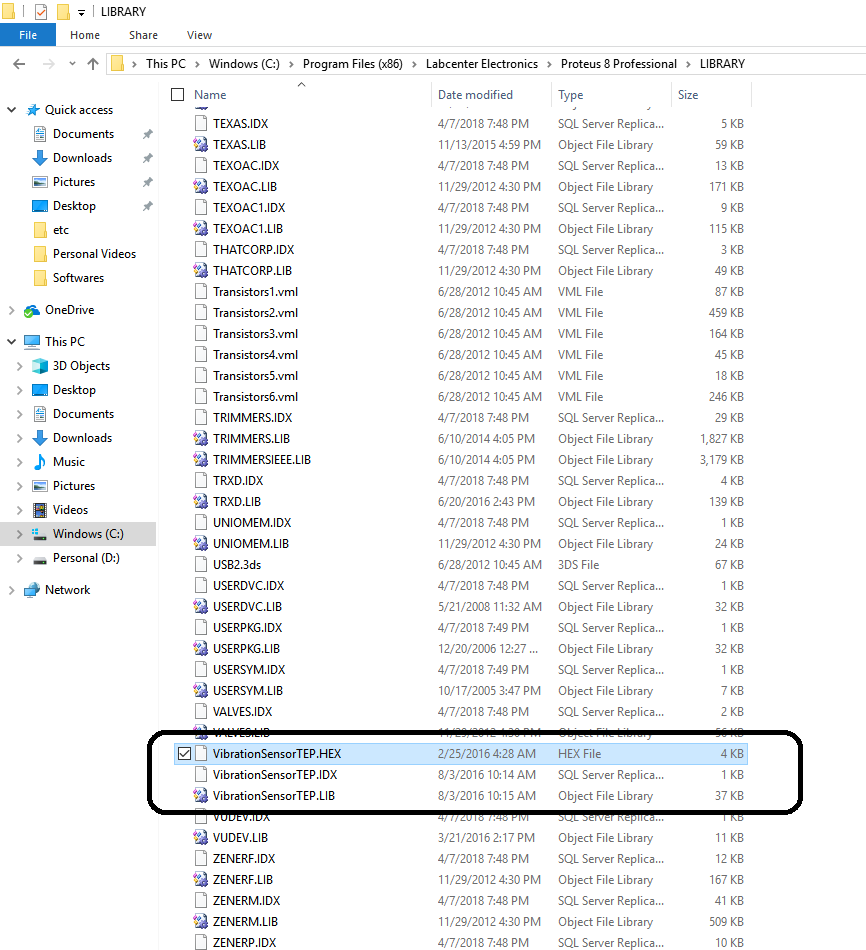 You can see our Vibration Sensor Library Files in this above image, I have encircled them as well. 😛
I have shown the same procedure in the below video, so must watch it. I think it will help. 🙂
Note:
Sometimes, it happens that Library folder is hidden, so if you are unable to find your Library folder then check your hidden folders too.
So, that was all for today. I hope now you can quite easily add new Library in Proteus 8. If you have any questions, then ask in comments. I will try to help you out. 🙂