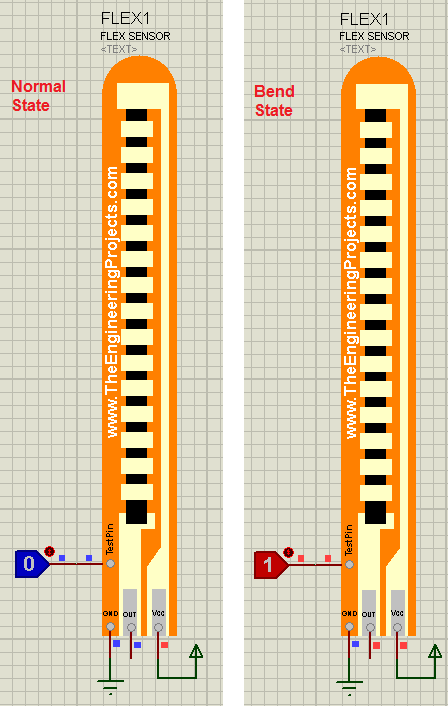 Hello friends,I hope you all are fine and having fun with your lives. In today's tutorial, I am going to share a new Proteus Library named as Flex Sensor Library for Proteus. I am quite excited while sharing this one because we are the first one to design this library and share it online. Although, I wanna add one thing here that most of the flex sensors are analog sensors and their resistance changes over bending and believe me I have tried my best to design an analog sensor but despite the efforts we couldn't so I am sharing a digital version of Flex Sensor. So, its not gonna detect how much its bent but it will detect whether its up or bent. So, I thought to share it with you guys. It's better to have something than nothing. You should also have a look at Analog Flex Sensor Library for Proteus, which we have designed finally. :) Although our team is still working on it and we hope to make it analog soon. Let me know your suggestions in the comments and if someone can help us in making it analog then it will be really great.Other bloggers are welcome to share this new with their reader but do mention our link. It will be a great favor to us. So, let's get started with Flex Sensor Library for Proteus: Note: Other Proteus Libraries are as follows:
Flex Sensor Library for Proteus
First of all, click the below button and download this Flex Sensor Library for Proteus:
Flex Sensor Library for Proteus
Open this rar file and you will get three file in it named as:
FlexSensorTEP.IDX
FlexSensorTEP.LIB
FlexSensorTEP.HEX
Now add these three files in the Library folder of your Proteus software.
Note:
If you are using Proteus 7 Professional, then the library folder link will be something like this: C:Program Files (x86)Labcenter ElectronicsProteus 7 ProfessionalLIBRARY
If you are using Proteus 8 Professional, then the library folder link will be something like this: C:ProgramDataLabcenter ElectronicsProteus 8 ProfessionalDataLIBRARY
Now I hope you have done everything correctly so now open your Proteus software or restart it if its already open.
In Proteus, make a search for Flex Sensor and you will get something as shown in below figure:

So, now select this Flex Sensor and place it in your workspace and it will look something as shown in below figure:
As I have told earlier that this Flex Sensor is not analog and it just works on digital.
So, there are four pins on it.
One is Vcc which you need to give 5V and second one is GND where you need to place the ground.
Third pin is OUT which will be either HIGH or LOW depending on the Test Pin, so if Test Pin is HIGH then OUT will be HIGH otherwise it will be LOW.
Both Straight and bent conditions are shown in below figure: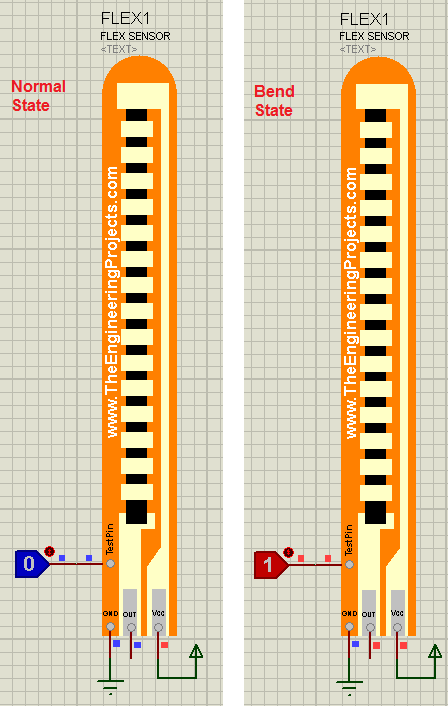 So, that's all for today. I hope you guys have enjoyed today's tutorial and this Flex Sensor Library for Proteus is really gonna help you out. Take care and have fun !!! :)