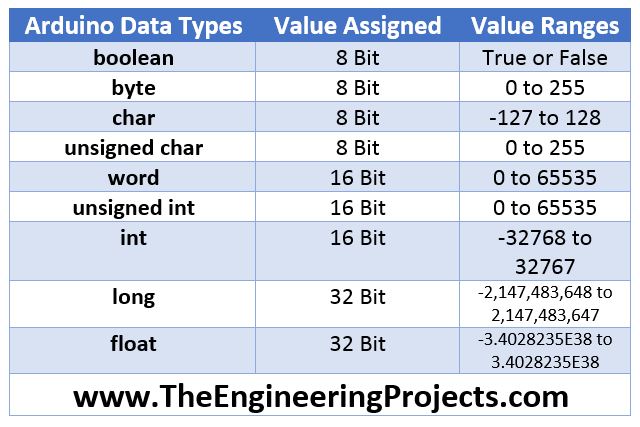 Hello everyone, I hope you all are fine and having fun with your lives. In today's post, I am going to share all about Arduino Data Types. Arduino Data Types play an important role in Arduino Programming and I have discussed them a little in my tutorial on How to do Arduino Programming. But today, we are gonna discuss it in more detail. I hope you guys are gonna enjoy from them and are gonna get benefit using them. Before going any further I think you must have a llok at Arduino Basic Tutorials in which I have explained everything in a very easy way. Anyways, Till now I hopeo that you have the basic know how of Arduino Programming and you ahave also worked on Arduino LED Example. So, let's get started with Arduino Data Types:
What are Data Types ??
If you recall your basic mathematics in which we have learned about sets like Whole Numbers, Natural Number, Prime Numbers etc.
So, in simple words, Data Types are such sets, but Data Types are different on the nature of element storing in them.
Data type is like a place, so when we initialize our variale then we tell our compiler that our newly introduced integer is of which type.
Is it an integer or it has decimal as well in it or its some character like A, B, C etc.
So, we have to tell our compiler the nature of our variable and that's where Data Types are required.
So, that's a little Introduction of Data Types, now let's have a look at Arduino Data Types:
Arduino Data Types
Arduino Data Types are almost similar to C++ Data Types because it roughly follows the same syntax.
So, now I am gonna discuss the most commonly used Arduino Data Types one by one:
Int - Arduino Data Types
Int is short form for Integer.
This Arduino Data Types can store a data of 16 Bit.
Int data ranges from -32,768 to 32767.
In Arduino Programmer, Int variable in initialized in several ways, which are:
int Value = 0;
int Value;
int Value1, Value2, Value3;
Char - Arduino Data Types
char is short for character.
This Arduino Data Type has a memory of 8 Bit or 1 byte.
Char Data Type saves charracters like A, B, C etc.
If you are initializing a single character then it will be in single quotes like 'A'.
But if you are dealing with character Array then it must be enclosed in doule brackets like this "ABCD".
When we save any character then in actual the ascii code of that character is being saved.
For example if you save a character '1', then its not integer 1 it is a character '1' and its ascii value is 49.
So, in that variable the value saved is 49.
All the Serial Communication is done using this char Data Type.
You should read How to do Arduino Serial Communication in which I have used this char variable.
Boolean - Arduino Data Types
Boolean data type is also used quite a lot in Arduino Programming.
Boolean is also of 8 Bit just like char and it can be either True or False, that's why we call it Boolean.
So, we can initialize a Boolean variable as:
boolean a;
Float - Arduino Data Types
Float is another very important Arduino Data type.
The unique thing of Float Data Type is that we can store decimal numbers in it.
For example I want to save 2.51 then I have to use Float because this value can't be save in Int or Char.
The above mentioned Arduino Data Types are the most commonly used data types and I hope you got their details in today's tutorial. In the below figure, I have mentioned all details about Arduino Data Types: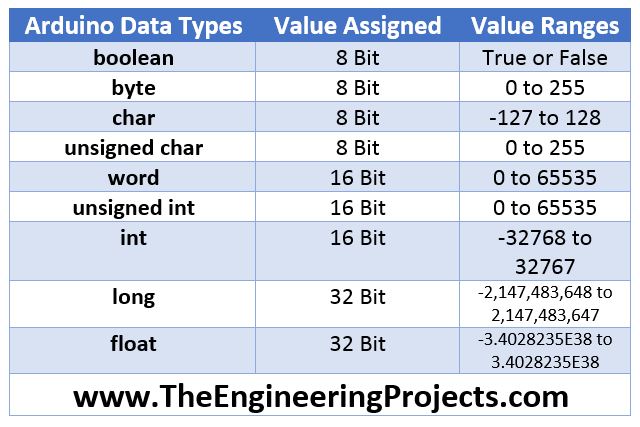 So, that's all about Arduino Data Types. In the coming tutorial I will share more about Arduino. So, take care and have fun !!! :)