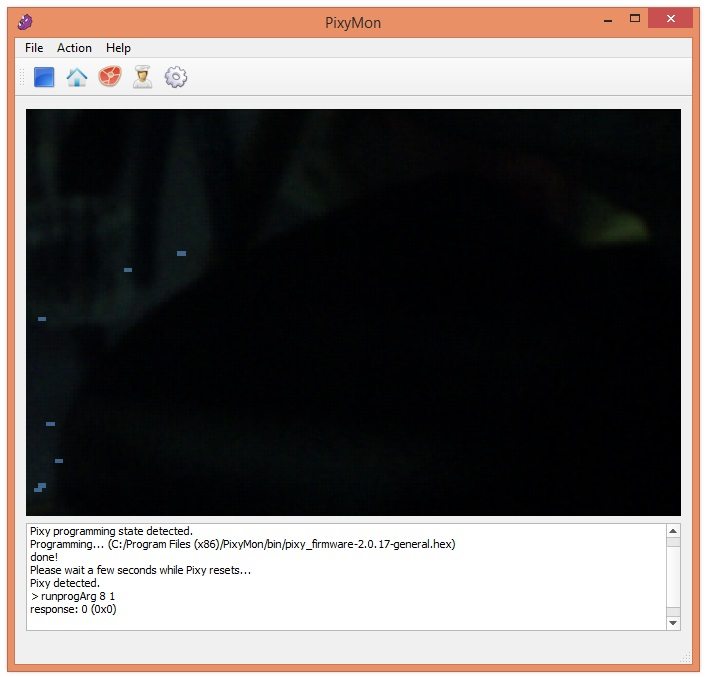 [vc_row][vc_column][vc_column_text]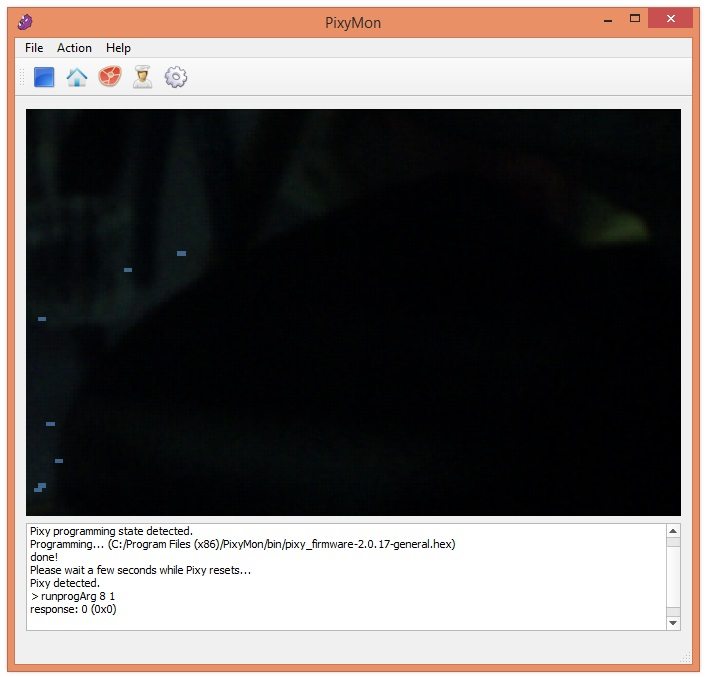 Hello friends, hope you are fine and having fun with your lives. Till now we have seen two tutorials on Pixy Camera module, in the first tutorial we have seen How to Get started with Pixy Camera and after that we have seen How to Install Pixy Camera software which is named as PixyMon. So, now I hope that you have installed the Pixy camera software and have the Pixy Camera module in hand along with USB to Mini USB cable. Because in this tutorial we are gonna plug our Pixy Camera module with moduter and will upload the latest firmware in our Pixy Camera Module, which isn't much difficult and would be a piece of cake if you followed all the instructions carefully.
Pixy Camera comes with some old firmware which is uploaded in it at the time of its manufacturing. But with the passage of tme, the firmware keeps on upgrading and hence in order to make the Pixy Camera module compatible with new software, we have to upgrade the Pixy Camera firmware as well, which we are gonna do in this post.We haven't yet connected our Pixy Camera module with computer so when we plug it with our computer for the first time, it will first install the driver for the usb of pixy Camera board and then we will be able to upload our latest firmware in it. So, before uploading firmware in Pixy Camera first let's have a look at How to install the driver for Pixy Camera module.
How to Install Driver for Pixy Camera ???
Plug your USB cable in Pixy Camera from USB mini side and plug the USB side into your computer.

Now when you plug your Pixy camera for the first time, a small pop up will open up in the task bar as shown in below figure:

And you don't need to do anything and it will get installed automatically. I have tested it on Windows 8 and it works like magic, no problem at all.

Now once you installed the driver for Pixy Camera, unplug your pixy Camera USB and now we will see how to upload latest firmware in Pixy Camera.
Upload Latest Firmware in Pixy Camera
So, now I hope you have unplugged your Pixy Camera USB from computer.

Now download the latest firmware of Pixy Camera by clicking the below button.
At the time of writing this post, the latest firmware available was 2.0.17 but you can download the latest firmware by

clicking here.

Now I hope you have downloaded the latest firmware for pixy Camera, so now open your PixyMon software and first time it will look something as shown in below figure: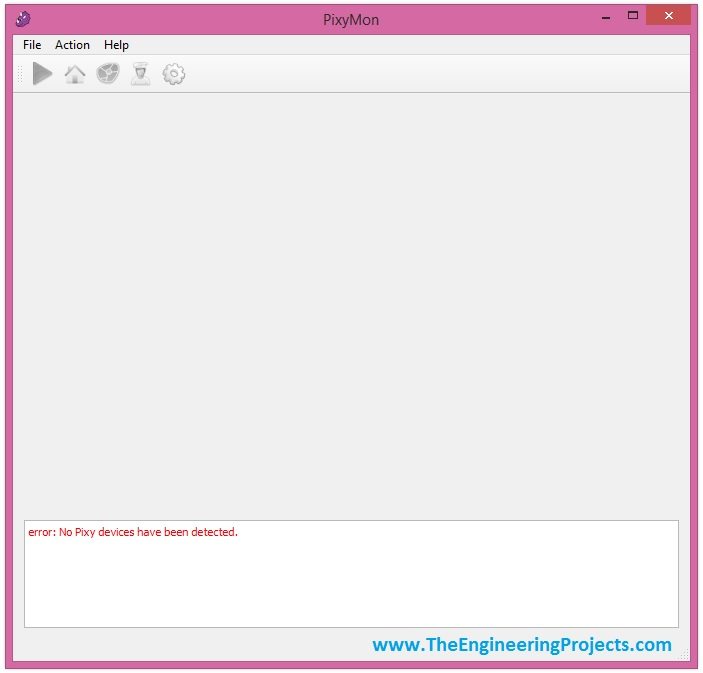 Now press the white button on your Pixy Camera and plug the USB in your computer while keep pressing the button.

Once the USB plugged in and USB got detected, then release the button and you will get something like this in your PixyMon.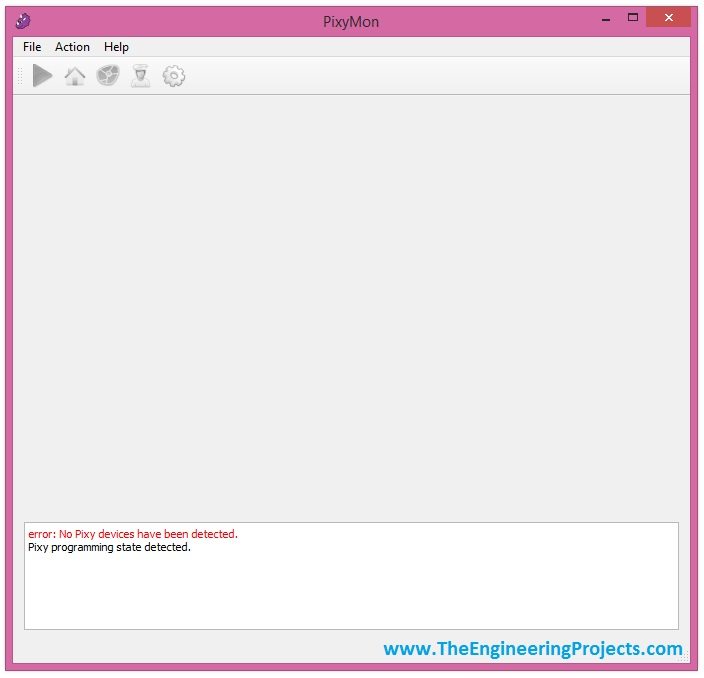 As shown in above figure, our Pixy Camera got detected and because we pressed the button so that's why it went in programming state.

Soon after this a pop up will open up as shown in below figure: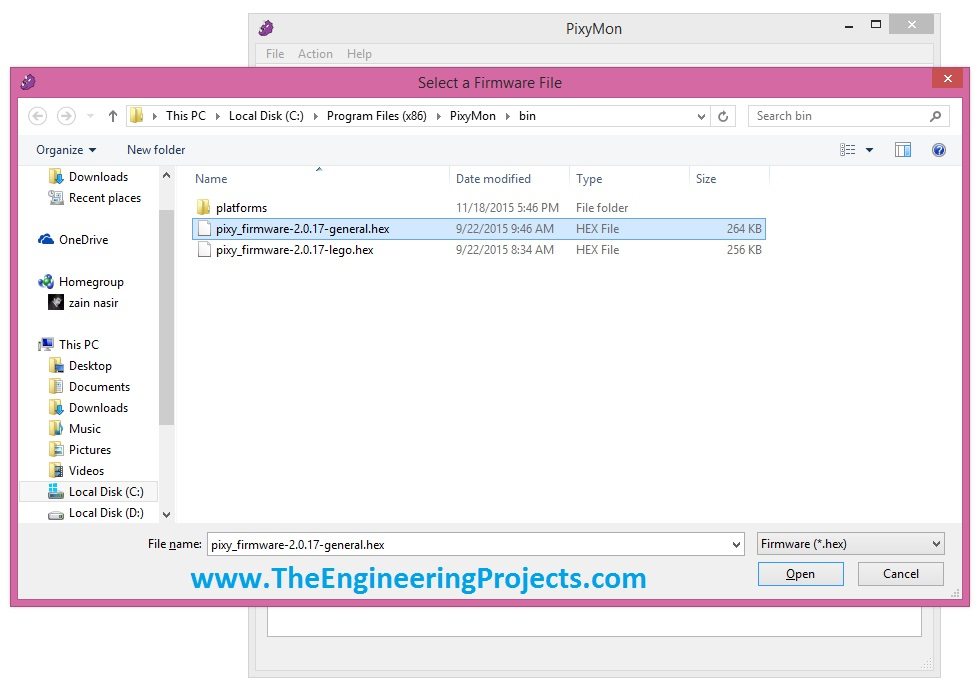 Now Browse to your downloaded firmware, which in my case is pixy_firmware-2.0.17-general.hex , so I selected this one and press Open.

It will automatically install the firmware and will restart the Pixy Camera and you will get something like this in your PixyMon.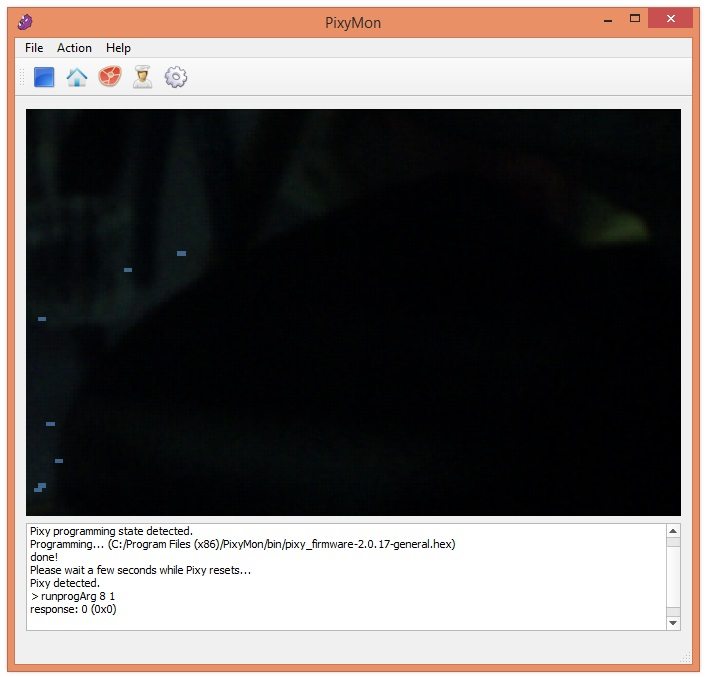 That's all, now you will start getting your video from Pixy Camera and you can see in the output pane that it installed the firmware first and then for reset and now ready to use.
Now we have uploaded the Latest Firmware in our Pixy Camera and have also plugged it with our computer and got it working with PixyMon. In the next tutorial, we will see How to train our Pixy Camera using this PixyMon. I am quite tired now so I don't think I am gonna post the next tutorial today, hopefully will post it tomorrow. So, till then take care :))

[/vc_column_text][vc_empty_space height="30px"][/vc_column][/vc_row][vc_row][vc_column width="1/2"][vc_column_text]<< How to Install Pixy Camera Software [/vc_column_text][/vc_column][vc_column width="1/2"][vc_column_text]