Hello everyone! I hope you all will be absolutely fine and having fun. Today, we are going to work on Arduino Keypad Interfacing. First of all, I would like to tell you a bit about the keypad. After getting the basic idea about the keypad, we will start our discussion about Arduino Keypad Interfacing.  You should also have a look at Interfacing of Keypad with PIC Microcontroller.
In this tutorial, I am going to use a 4×4 keypad. It has sixteen buttons having four alphabetic characters. Let's have a look at the Arduino Keypad Interfacing:
What is Keypad?
The keypad consists of multiple buttons, arranged in the form of a matrix(rows & columns) and is used in embedded projects.
They are cost-efficient and are easily available from online electronic stores.
Keypads are normally available in a 3×3, 4×3 and 4×4 format.
Keypad has several applications in real life based projects e.g. mobile phones, calculators, laptops, personal computers, television remote, toy remote, microwave oven, photocopy machine, bank's ATM machine, tablets and a lot more.
A simple 4x4 Keypad is shown in the figure given below: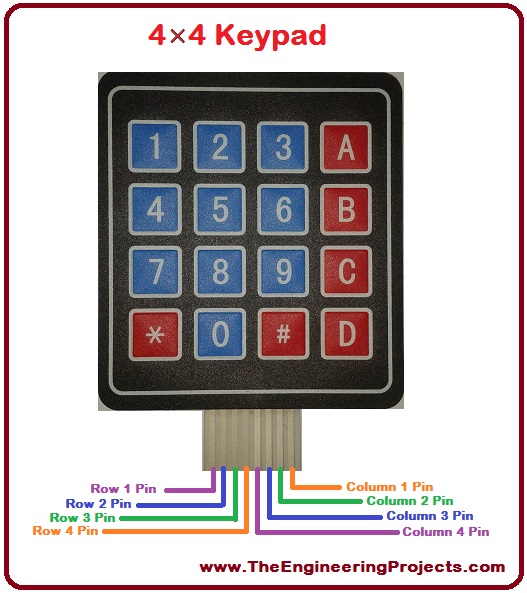 Keypad Pinout
I am using a 4×4 keypad in this tutorial, it has total of eight (8) pins.
All of these pins are provided in the table shown in the figure below: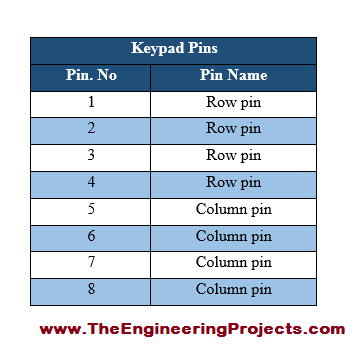 From the above table, we can see that keypad's first four pins are associated with its four rows.
The last four pins are assigned to the four columns of the keypad.
4×4 Keypad's pins functions are listed in the table provided in the figure given below.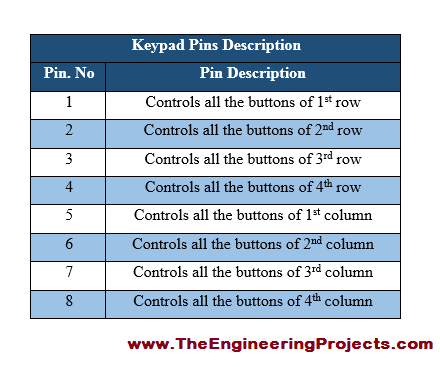 Components Required for Arduino Keypad Interfacing
Components required for this project are:

Arduino UNO.
4x4 Keypad.
Jumper Wires(Male to Female).
Keypad & Arduino Connections
The connections between the keypad and Arduino are provided in the figure given below: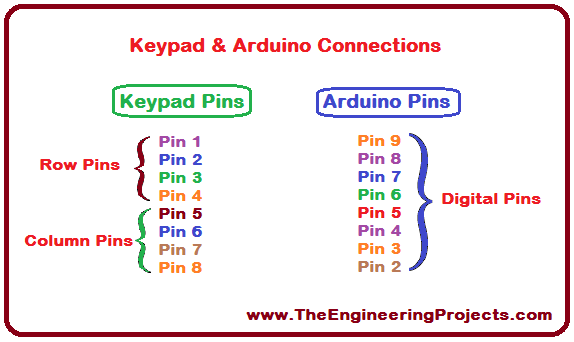 Circuit Diagram of Keypad Arduino Interfacing
I have made a circuit diagram for keypad interfacing with Arduino.
A complete labeled circuit diagram is given in the figure shown below:
You can make a similar diagram and can easily test & verify your results on the serial monitor.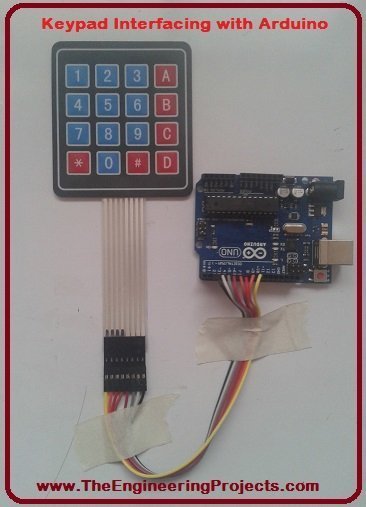 Arduino Code
You just need to copy this code into your Arduino software.
After successfully uploading the code to your Arduino board you will be able to verify the results.
#include <Keypad.h>

const byte ROWS = 4; //four rows
const byte COLS = 4; //four columns
//define the cymbols on the buttons of the keypads
char hexaKeys[ROWS][COLS] = {
  {'1','2','3','A'},
  {'4','5','6','B'},
  {'7','8','9','C'},
  {'*','0','#','D'}
};
byte rowPins[ROWS] = {9, 8, 7, 6}; //connect to the row pinouts of the keypad
byte colPins[COLS] = {5, 4, 3, 2}; //connect to the column pinouts of the keypad

//initialize an instance of class NewKeypad
Keypad customKeypad = Keypad( makeKeymap(hexaKeys), rowPins, colPins, ROWS, COLS); 

void setup(){
  Serial.begin(9600);
}
  
void loop(){
  char customKey = customKeypad.getKey();
  
  if (customKey){
    Serial.println(customKey);
  }
}
First of all, I have defined the number of rows and columns of the keypad.
Then I have declared the complete keypad characters in terms of rows and columns.
After that, I have defined the row and column pin of the keypad attached to the Arduino pins.
Then I have simply read the data sent from the keypad and displayed it on the serial monitor.
You can download a completely labeled wiring diagram and Arduino source code here by clicking on the below button:
Wiring Diagram & Arduino Code
In the tutorial Keypad Interfacing with Arduino, I have explained the basics of the keypad as well as the keypad interfacing with Arduino UNO. I have tried my level best to cover up all the necessary information. If you found something missing, please let me know then. I will update my tutorial correspondingly as soon as possible. I hope you have enjoyed the complete tutorial and I am hoping for your positive response. If you have any problem you can freely ask as in comments anytime. I will share different topics in my upcoming tutorials. Take care and bye till the next tutorial :)